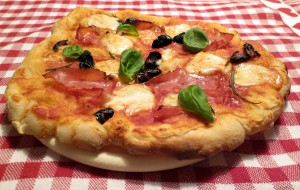 Olives have been pressed into olive oil for thousands of years, and as a whole fruit, they are preserved in oil or brine. Especially in southern Italy, there is another way to preserve and enjoy whole olives.
When picked ripe, olives show various shades of dark green, brown to almost black, depending on the variety. If you are lucky enough to find fresh olives, you'll only bite into such a fruit once – it is extremely bitter.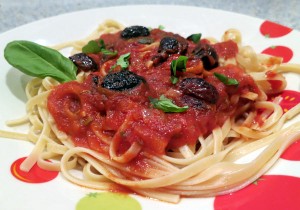 To tame that bitterness, olives are treated with water and salt brine, and they're also packed that way if you buy them in a jar. While olives in brine may be perfect for martinis, there's a better way if you want a spicy, chewy treat.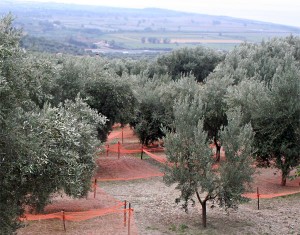 In the southern Italian region of Basilicata, a century-old procedure is still used today. There's even a territory-protected cured olive product named "Oliva infornata di Ferrandina", made from the dark-colored "Maiatica" olive cultivar. This is even a certified slow food product.
The preservation method is simple: First the olives are blanched in hot water. Then moisture and bitter components are drained from the fruit with sea salt, and finally the fruit is dried – in the early days by use of charcoal fires, now in special drying ovens, called "essiccatori" (dehydrators).
After the olives were harvested in October through December when fully ripe, they are blanched in 90°C hot water, dried and salted vigorously with sea salt. Moisture and bitter components are drained from the fruit that way. Thereafter the somewhat dehydrated olives are distributed on grids, and and dried at 50° C in a special oven. In the early days, charcoal fire was used, now replaced by special drying ovens, called "essiccatori" (dehydrators). The fruits will get a slightly wrinkled appearance, almost like little prunes.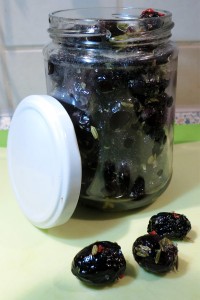 Inside the flavor is concentrating, just like with sundried tomatoes.
In this form, the olives keep well, and they can be eaten pure or mixed with olive oil and garlic, herbs and spices to enjoy as an appetizer snack or use them in a tomato-based pasta sauce or on pizza.
Enough theory!
Two years ago we brought a nice olive tree from Italy to our yard, and in its first year, it gave us a beautiful autumn harvest of about a pound of nice dark olives. We tried the above treatment and were awarded with tasty olives. Due to a severe freeze last winter, our precious tree almost died, and we still hope it will come back. This year we were lucky enough to find fresh olives at Italian produce stand on our local farmers market. So at least we were able to make that tasty treat again. Here's what we did. Note that there are hundreds of olive varieties, some might work better than others. Results may vary, so start with small quantities. And as with any produce that you plan to preserve, use only fresh, ripe  and spotless fruit.
The Cure: Do-It-Yourself Spicy Olives
Author:
Prep time:
Cook time:
Total time:
Ingredients
1 lb. fresh olives
8 oz. sea salt
1 tbsp. fennel seeds
1 tsp. red pepper flakes
1 tsp. dried oregano
2 tsp. coarse sea salt or kosher salt
1 tbsp. olive oil
Instructions
Rinse the olives. We didn't blanch our olives, but if you prefer, submerge olives in 90C (195F) hot water for 5-10 minutes.
Put a clean cheesecloth or kitchen towel in a strainer, fill in the olives and mix with 8 oz. of salt. Cover with cloth and let sit at a cool place for 20 days, mixing through every other day.
Rinse the olives, pat dry and place on a baking sheet. Drizzle with oil, sprinkle with some fennel seeds and coarse salt. Bake in the oven for 30-45 minutes at 100C (210F).
Let cool and put olives in a glass jar. Add fennel seeds, salt, pepper flakes, dried oregano and olive oil. Close jar and shake well until olives are coated evenly.
Store cool and dark, the olives should stay fresh for about 6 months. Use either as a snack, or in recipes like spicy pasta sauce or on pizza (pits removed).
Notes
If you can't find fresh olives (or don't want to wait until in season), you can still kick up store-bought dried black olives by treating them with above Step 4. Or if they're packed in brine, start with step #3. Please note that black ripe olives sometimes contain Ferrous Gluconate, a water-soluble iron salt for maintaining the black color (E579 on EU ingredients on the label). According to Wikipedia, that stuff may be toxic in case of an overdose, but that's rather unlikely with treated olives. Yet I'd go for a not so perfect color or naturally dark olives (check the organic section of your store).
Where to get fresh olives
Here in southern Germany, we're lucky enough to be so close to Italy. In the United States, the largest olive  grower is California. Google for "California olives" and you'll find quite a few growers both in northern and southern CA. Here are just a few that I found, and it can't hurt to ask if they would supply fresh olives when in season:
California Olive Ranch
West Coast Products
The Olive Press
The California Olive
California Olives and Oil
California Olive Oil Council
Also, on a recent trip through the Texas Hill Country, we stopped by a wonderful olive orchard and oil producer in Dripping Springs, about half an hour driving from Austin.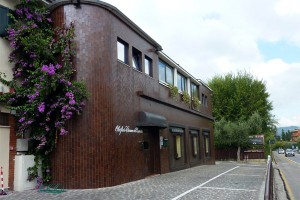 Tasty Travel Tip
When in Northern Italy, be sure to stop by the Olive Oil Museum in Cisano (near Bardolino, Garda Lake). Learn everything about olives as well as oil making back then and today. The museum shop has all sorts of olive products, including  oil, olive wood products and even olive soap and shower gel. Most of the food products are  available for sampling. Museo dell'Olio d'Oliva is located on the the main lakeside road (S249): Via Peschiera, 54 37011 Cisano di Bardolino (VR), Italy.
The following two tabs change content below.
European Chilehead Editor at Large | Harald's Chili Pepper Buch 2.0 is the bestselling chile book in German-speaking Europe. He covers European chilehead culture and his own spicy kitchen encounters for Burn Blog.
Latest posts by Harald Zoschke (see all)