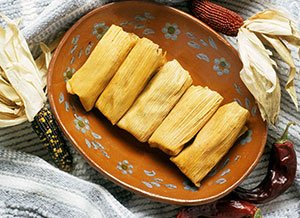 Even though I spent Christmas with my kids in Portland, Oregon, I wanted to keep up with New Mexico tradition and have a family tamale-making night. The project was a fun, messy, delicious success. If you want to try making your own tamales at home, here's a step-by-step photo how-to. The basic pork and red chile tamale recipe came from the SuperSite article entitled "Tantalizing Tamales" by Gwyneth Doland.
Happy New Year, and enjoy!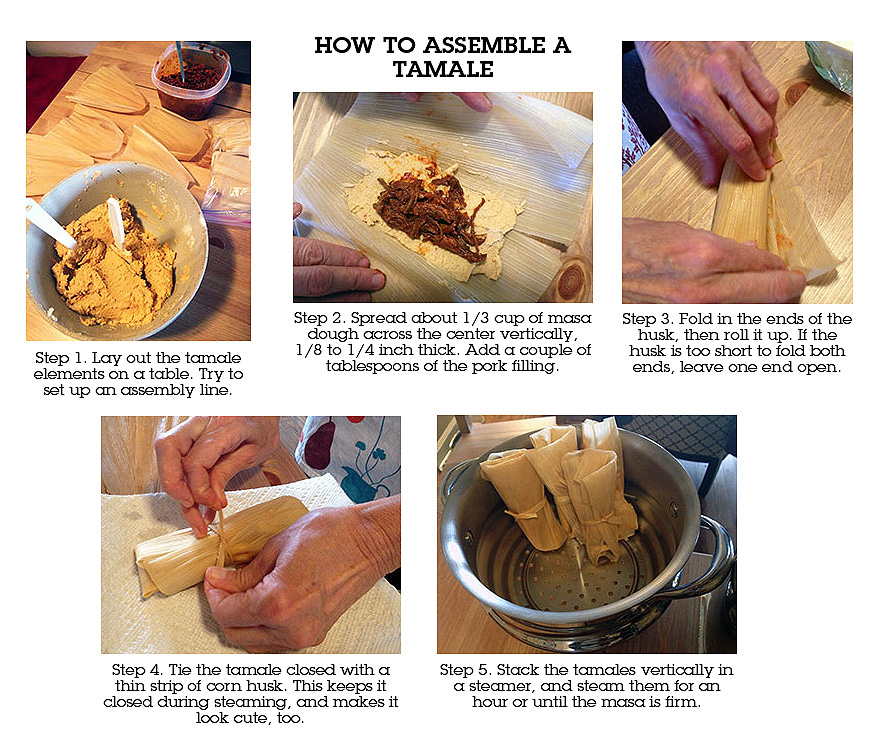 Pork and Red Chile Tamales
Author:
Prep time:
Cook time:
Total time:
These are some of the most common tamales in the Southwest. They can be found in restaurants, cafes and in the coolers toted by strolling vendors. Everybody loves them, so make a bunch and freeze any leftovers. This recipe makes enough pork filling to make another batch of tamales, but you can always just use the extra pork for burritos.
Ingredients
1 recipe Basic Masa (recipe follows)
2 1/2 pounds boneless pork butt, trimmed of excess fat
6 cloves garlic, peeled
1 teaspoon black peppercorns
2 bay leaves
1 teaspoon salt
1 recipe New Mexico Red Chile Sauce (recipe follows)
At least 36 softened corn husks, plus 36 strips for tying
Instructions
Arrange the pork butt in a large Dutch oven or heavy-bottomed stockpot. Add the garlic, peppercorns, bay leaves and salt. Pour over it enough cold water to cover by several inches. Turn the heat to high and bring the liquid to a boil, then reduce the heat and simmer, partially covered, about 2 hours.
Transfer the pork to a cutting board and allow it to rest 20 minutes. Using 2 forks, shred the meat. In a bowl, combine 2 cups of the shredded pork with enough red chile sauce to thoroughly moisten the meat.
Place the corn husks in a pan of hot water (enough to cover), and let them soak for an hour. Before using a husk, blot the extra water from the surface. It's ok if they are damp, just not dripping wet. This will make it easier to spread the masa.
Assemble and steam the tamales, following the instructions above.
Serve with the remaining New Mexico Red Chile Sauce on the side, so people can unwrap their tamale and spread it with sauce.
Basic Masa Dough
Prep time:
Cook time:
Total time:
Ingredients
2 cups freshly ground masa for tamales or 3 cups masa harina
1 1/2 teaspoons salt
1 1/2 teaspoons baking powder
1 cup fresh lard, at room temperature
1 1/2 cups homemade or low-sodium chicken stock
Instructions
If you're using masa harina, pour it into a bowl and add 2 cups warm water. Work the mixture into a dough with your hands and then set it aside to rest for about 15 minutes.
Add the lard to the workbowl of a standing mixer fixed with the whisk attachment (or use a regular hand mixer in a large bowl) and beat it together with the salt and baking powder until light and fluffy.
If you're using a standing mixer, switch to the paddle attachment. While beating, add the reconstituted (or freshly ground) masa by handfuls into the workbowl. Add the stock and beat until combined. Taste the mixture and add salt if necessary.
Continue beating until the masa is light and fluffy, 15 or 20 minutes. The masa is ready when a grape-sized ball of dough floats in a glass of cold water. If the dough sinks continue beating 5 minutes longer, then test it again.
New Mexico Red Chile Sauce
Author:
Prep time:
Cook time:
Total time:
This is my version of New Mexico's famous red chile sauce. Mixed with shredded pork, it is used as a tamale filling, but it is also ladled over the tamales as well as enchiladas, huevos rancheros, breakfast burritos, stuffed sopaipillas, chiles rellenos and almost anything else you can think of. You may not need four cups of the sauce for your recipe, but you might as well make the whole batch; freeze extra portions in small resealable plastic containers.
Ingredients
24 dried red New Mexico chile pods
5 cups beef stock, chicken stock or water
2 tablespoons bacon grease, lard or vegetable oil
2 cloves garlic, minced
2 tablespoons flour
1 teaspoon dried Mexican oregano
Salt, to taste
1 teaspoon honey, or to taste (optional)
Instructions
In a large cast-iron skillet over medium heat, toast the chiles on both sides (you'll have to do this in batches) until they soften slightly and become aromatic. You can also do this in a 300-degree F. oven, removing the chiles when they have heated through and become puffy. Be careful not to burn them. When the chiles are cool enough to handle, remove the stems and seeds.
Transfer the chiles to a deep saucepan and pour over them about 4 cups water (or enough to just barely cover. Bring the mixture to a boil, then reduce the heat and simmer for about 10 minutes. Remove the pan from the heat and allow the chiles to rest, about 15 minutes.
Working in batches, puree the chiles with their soaking liquid.
In the cast-iron skillet, over medium heat, melt the bacon grease. Add the garlic and flour and cook, stirring, until the mixture becomes golden. Add the pureed chiles and stir quickly while the sauce bubbles and spatters. Reduce the heat, add the oregano and simmer 5 minutes. Season to taste with salt. If the sauce is a little bitter, mellow it with the honey.
The following two tabs change content below.
Lois Manno
Lois is the Editorial Director of the Burn! Blog and the Fiery Foods & BBQ SuperSite.
Latest posts by Lois Manno (see all)