During the Bare Bones competition at Meatopia Oakland last year, I couldn't help but hear Chris Lilly talk to his Kingsford buddies about this year's football season. Mostly because I was eavesdropping. That conversation mutated into the kernel of an idea which grew into a great question: what do some of the biggest and brightest in barbecue do for Super Bowl Sunday? And more importantly, would they share their insights with us for a story? Here's the final fruit from that line of inquiry, complete with recipes from each at the end.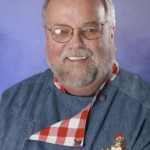 Rick Browne, Barbecue America
What's a Super Bowl feast like at your house?
Cooking (what a surprise) barbecue of some sort like beer-butt chicken, barbecue pork ribs (in hoisin sauce though), and Texas brisket sandwiches. I also love cedar-plank salmon and satay shrimp skewers.
What's the hardest part of putting said feast together? How do you deal with it?
Guessing how many people will show up and how hungry they'll be – but no problem BBQ leftovers are awesome. We ALWAYS have leftovers, my Mom taught me never, ever run out of food at a party, want your guests to feel like they can enjoy themselves, not worry about eating that last shrimp or pork rib on the plate.
Who's going to win it all this year?
Hopefully the San Francisco 49ers (my favorite team) or the Seattle Seahawks (my co-favorite team).
What do you have planned for this year's game?
Turkish-style barbecue lamb skewers on pita bread with grilled veggies and yogurt sauce, grilled sweet potatoes, a Caesar salad (yes it's grilled too) and pears poached in Reisling wine (on the bbq grill too), with raspberry-chocolate sauce and ginger ice cream. Served with lots of chilled adult beverages.
(You can see Rick's latest book here)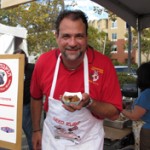 Doug Keiles, Chopped Grill Masters, Ribs Within Champion Barbecue Team
What's a Super Bowl feast like at your house?
We love the Super Bowl at my house. We celebrate it as our New Years Party, since it "kicks off" our barbecue season. We go all out and have themes that the guests must follow. Everybody brings really cool dishes because everyone tries to outdo each other. We have had this party since 1999—the year we moved into this house. It was held at someone else's house when the Giants played the Pats a few years ago because the Giants lost the year they played the Ravens and I vowed never to have it when the Giants played. Last year broke the streak, because we knew the Giants would win, and we had it here anyway.
Usually 35-40 people come over. We have 2 large screens, upstairs for people who don't care too much about football, and downstairs for the hardcore, like me.
Three years ago we went hardcore theme and did a Bacon Bowl. We had 30 dishes with bacon in them—apps, mains, and desserts. The highlights were Moink balls (meatballs with bacon inside and wrapped in bacon), ribs tips in bacon barbecue sauce, and Bacon Baklava.
Two years ago it was the Leg Bowl, with 28 different dishes including legs (and bonus points for including bacon, too). All sorts of legs; chicken, deer, calamari, pig, beef and lamb all made an appearance. By far the winner was someone who made the leg lamp from "A Christmas Story" out of Rice Krispy Treats and bacon fat, including the lamp shade, and it really worked as a lamp (for a while until the lamp shade started to melt). It was really a crazy party.
Last year, we had the Balls Bowl. Everyone brought balls, and most people used bacon and legs in them, too. Scotch eggs, ball chili, chicken and bacon balls, lamb leg and bacon balls, fried peanut butter pork balls covered in peanut butter cookies, and my personal favorite, made by me, Matzo balls fried in bacon fat with "Bacon Air"—a molecular gastronomy trick I learned. Balls were flying everywhere…
What's the hardest part of putting said feast together? How do you deal with it?
The hardest part of putting together a party like this is making sure we have enough of a variety of food that everyone can eat. Usually it is not a problem, but food allergies must be respected, so everyone has to tell me the ingredients when they get there. Also figuring out a new theme for each year is a challenge. This year's theme is the craziest of them all.
Which brings up the next question. What do you have planned for this year's game?
This year we have a special theme that nobody knows but me. It will be kind of "Chopped" meets Iron Chef and they will not know what to make until 1 week before the game. I think it will add to the excitement. Everyone is pestering me, but i will not reveal their assignments until then. I want them to feel the stress I felt on Chopped (laughs). Each year it gets harder and harder. Isn't that the way it is supposed to be? One year, Mark, you will have to come and join us.
Who's going to win it all this year?
Whoever scores more points will win. I am a diehard Giants fan, so this year I don't care, but I really don't like the Pats, so anyone but them.
What's your Super Bowl signature food item?
Moink Balls usually show up in some shape or form. Simple recipe… (see below)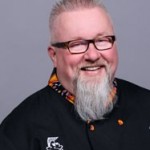 Ray Lampe, Dr. Barbecue, World-famous pit master and author
What's a Super Bowl feast like at your house?

Well it's definitely a feast! I like to serve many different things and many courses so the food just keeps on coming. Start with a cold plate and then the hot appetizers start coming. Wings, quesadillas, potato skins, some sort of shrimp dish, maybe some baked clams, meatballs, mini pizzas, and a pot of chili! At halftime I serve the main course and it's gonna be real barbecue. Usually ribs but if a Texas team is playing I might serve brisket. Dessert stays out all day so there really isn't a special time for that. There's lots of beer choices and a drink of the day like Bahama Mamas or Margaritas. Lots of water and soda choices, too.
What's the hardest part of putting said feast together?
It's a long day and I like to feed the guests when they are hungry, no matter when that is, so the biggest challenge is having the food ready for them at all times.
How do you deal with it?
I always start with a cheese and meat tray so the guests can start eating as soon as they arrive. If they arrive hungry and there is nothing ready they just bug me and rush the other food. I also make sure there is at least a plate of cookies or some other sweet available at all times. Some folks are living the "eat dessert first" thing and I want to accommodate them. I usually have some sort of a crock pot item as well that stays warm all day. Meatballs or chili work well for this.
Who's going to win it all this year?
My Bears are out of it so anybody but the Packers is fine with me.
What's your Super Bowl signature food item?
Barbecue ribs for the halftime main course. You can get the recipe below, or it and more from my new book, Slow Fire: The Beginner's Guide to Lip-Smacking Barbecue.
What do you have planned for this year's game?
I'll be in New Orleans all week leading up to the game so maybe I'll get lucky and find a ticket!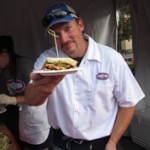 Chris Lilly, Big Bob Gibson Bar-B-Que, World-famous champion and Pit Master
What's a Super Bowl feast like at your house?
It's relaxing. During the game, you shouldn't get stressed with tending to a grill throughout the event. Even the commercials are fun to watch so do all of your hot grilling before the game. Your focus should be on the ball game.
What's the hardest part of putting said feast together? How do you deal with it?
For the most part, cooking for the Bowl is easy. I like to think of it as finger foods. The toughest part is the guest list. If you want them back the following year, food is key to making that happen. Relax during the game, enjoy family and friends. That's how it should be watched.
Who's going to win it all this year?
(Laughs) I think Green Bay is gonna come out of the AFC. I look forward to New England versus Denver. I'm gonna say it's Denver versus Green Bay at the Bowl with the Broncos coming out on top.
What's your Super Bowl signature food item? Can you share the recipe for it with our readers?
Absolutely. It's ribs. When you think of football and the Bowl, ribs are number one. I'll do pineapple sweet ribs out of the book. I'll also do wings with a simple dry rub over indirect heat for 30-35 minutes served with Buffalo barbecue sauce. I may also do barbecue nachos and smoked artichokes with a Cajun mayonnaise as well.
What do you have planned for this year's game?
The great thing about this year is, we're moving into a new house on the lake so I'm inviting a lot of friends and family over to break in the house. There's got to be some outdoor grilling involved for the game. It's a must.
(You can find Chris' book here.)
Turkish Beef Kebab – Adana Kebap (Rick Browne)
Author:
Prep time:
Cook time:
Total time:
There are over 30 varieties of Turkish kebabs which locals call "siskebabi," "sis kebaps," or "kebabi. Fish, vegetables, pork, beef, fruit, or fowl, are all put on wood or metal skewers and grilled over open flame or coals. Note: If you want to grill vegetables along with fish, chicken or small cubes of meat it's best to parboil vegetables such as bell peppers, zucchini, carrots and other dense foods before skewering. Baby new potatoes can be scrubbed and par-boiled in skins or use canned whole potatoes.
Ingredients
1 pound ground beef, or lamb
1 onion, chopped
1 teaspoon red pepper flakes
1 teaspoon ground red pepper
1 teaspoon cumin
1 tablespoon oregano
4 large tomatoes, cut in half from top to bottom
4 green bell peppers, seeded, cut in half lengthwise
2 tablespoons olive oil
Salt and freshly ground black pepper
1/2 cup chopped, fresh parsley
Turkish type pita bread
Olive oil
Instructions
In a large mixing bowl combine the beef, onion, pepper flakes, ground pepper, cumin, and oregano, and mix well. Cover the bowl with plastic wrap and store in the refrigerator overnight.
Preheat charcoal or gas barbecue to 375˚F.
Shape the meat mixture into 8 to10 sausage-shaped pieces, about an inch thick and 4-inches long, then let cool in the refrigerator for 20 minutes.
Place the meat lengthwise on the pre-greased skewers. Cook until you reach your desired degree of doneness, 4 to 5 minutes a side for medium rare.
Place the skewers on the grill. Cut both the tomatoes and the green peppers in half, brush with olive oil, season, and line the vegetables up next to the meat on the grill. Grill until both the peppers and tomatoes start to get char marks and are bubbling, turning once.
Warm the pitas by placing them on a cooler side of the grill and turning them frequently, do not burn them.
Remove the grilled meat from the skewers, sprinkle with parsley, and serve with the warmed pita bread as an appetizer.
Poached Pears with Raspberry Coulis and Chocolate Drizzle (Rick Browne)
Author:
Prep time:
Cook time:
Total time:
A great way to get you through the halftime show.
Ingredients
4 large Bosc (or D'Anjou) pears
4 cups cranberry-raspberry sauce
2 cups Riesling or other sweet white wine
1/4 cup sugar
2 cinnamon sticks, broken into pieces
1 (10 oz.) package frozen raspberries in syrup, thawed
Instructions
Combine the juice, wine, sugar and cinnamon stick halves in deep saucepan or casserole.
Peel the pears, slice a small piece from the bottom so they'll stand up in a pan, and core the bottom of the pears using a sharp-serrated edge corer. Stand the pears upright in the pan and cover; bring to a boil then reduce heat to simmer the pears for 20-25 minutes, or until they are fork-tender. These can be cooked on a stovetop, on a bbq side burner or in the barbecue grill for a slightly smoky flavor.
Remove and discard the cinnamon sticks.
Process the raspberries in food processor or blender until smooth; strain and discard the seeds. Spoon the raspberry coulis onto serving plates; place pears on top of sauce.
Drizzle the chocolate sauce over pears and then sprinkle with confectioner's sugar, serve.
Moink Balls (Doug Keiles)
Author:
Prep time:
Cook time:
Total time:
Ingredients
2-3lbs of ground chuck (80%)
1/2lb ground bacon (the other half for wrapping)
4 oz. Ribs Within Rub 4 All
2 oz Ribs Within BBQ Salt
Instructions
Mix and let sit for 30 minutes.
Then make small meatballs and wrap them with the rest of the bacon (pound the bacon flat and use 1 strip to cover 3 meatballs).
Use a toothpick to hold the bacon if you don't have a moink baller.
Grill until the bacon is crispy (about 5-6 minutes).
Coat with BBQ sauce or Teriyaki for Moinkyaki balls.
St. Louis Cut Ribs with Orange Chipotle Barbecue Sauce (Ray Lampe)
Prep time:
Cook time:
Total time:
Ingredients
2 slabs of St. Louis cut pork ribs, about 2 and ½ pounds each
Barbecue Rub #67 as needed:
½ cup Sugar In The Raw
½ cup Kosher salt
3 tablespoons chili powder
3 tablespoons paprika
1 teaspoon garlic powder
1 teaspoon onion powder
½ teaspoon black pepper
½ teaspoon lemon pepper
½ teaspoon ground coffee
¼ teaspoon cayenne
One batch Orange Chipotle Barbecue Sauce:
1 and ½ cups orange juice
1 and ½ cups tomato sauce
2 tablespoons honey
1 tablespoon chipotle puree *see note
½ teaspoon salt
½ teaspoon black pepper
½ teaspoon cumin
½ teaspoon garlic powder
½ teaspoon onion powder
Instructions
For rub: Combine all the ingredients in a medium bowl and mix well. May be stored in an airtight container in a cool place for up to six months.
For sauce: In a small saucepan over medium heat combine the orange juice and tomato sauce. Bring to a simmer and cook for about 15 minutes until reduced by one third. Add the honey, chipotle puree, salt, pepper, cumin, onion powder, and garlic powder. Mix well. Return to a simmer and cook 10 minutes until the flavors have combined and the sauce has thickened. Add a little more orange juice if it gets too thick.
For the finished ribs: Prepare your cooker to cook indirect at 235° using medium apple wood smoke for flavor.
Peel the membrane off the back of the ribs and trim any excess fat.
Season the ribs liberally on both sides with the barbecue rub. Place them in the smoker meat side up and cook for 2 hours. Flip the ribs to cook meat side down and cook for 45 minutes.
Divide the sauce in half into two bowls. Reserve one half for serving.
Lay out two big double sheets of heavy duty aluminum foil on the counter.
Remove the ribs from the cooker and place one on each piece of foil meat side up.
Brush the top of the ribs heavily with the barbecue sauce.
Close up the rib packages pressing out as much air as possible. Do not seal the packages tightly. They need to breathe a little.
Return the ribs to the cooker for 30 minutes.
Open the package and check for doneness by poking a toothpick down into the meat. It should slide in and out very easily. If you want the ribs more tender, just wrap them back up and cook a little longer.
When they're as you like them, remove the ribs from the heat and let rest in the foil for at least 10 minutes.
Transfer to a cutting board and cut each rib individually. Transfer to a platter to serve.
Apricot-Pineapple Ribs (Chris Lilly)
Author:
Prep time:
Cook time:
Total time:
Ingredients
(x2) slabs of baby back ribs (2 lbs each)
Dry rub: 1/4 cup firmly packed dark brown sugar
4 teaspoons garlic salt
4 teaspoons chili powder
2 teaspoons salt $
1 teaspoon ground black pepper
1/2 teaspoon celery salt
1/4 teaspoon ground white pepper
1/4 teaspoon ground red pepper
1/4 teaspoon ground cinnamon
For pineapple-apricot sauce:
1/2 cup pineapple juice
1/2 cup apricot nectar
1 tablespoon Rib Dry Rub (above)
1 1/2 teaspoons balsamic vinegar
1 1/2 teaspoons minced garlic
For barbecue glaze:
1 1/4 cups premium tomato-based barbecue sauce
1/4 cup honey
Instructions
Mix the dry rub ingredients. Store in an airtight container for up to a month.
Stir together the sauce ingredients. Store in an airtight container in refrigerator up to 2 weeks.
Stir together the glaze ingredients. Store in an airtight container in refrigerator up to 2 weeks.
Remove thin membrane from back of each slab by slicing into it and then pulling it off. (This will make ribs more tender.) Generously apply Rib Dry Rub on both sides of ribs, pressing gently to adhere.
Light one side of grill, heating to 250° (low) heat; leave other side unlit. Place slabs, meat sides up, over unlit side, and grill, covered with grill lid, 2 hours and 15 minutes, maintaining temperature inside grill between 225° and 250°.
Remove slabs from grill. Place each slab, meat side down, on a large piece of heavy-duty aluminum foil. (Foil should be large enough to completely wrap slab.) Pour 1/2 cup of Rib Liquid Seasoning over each slab. Tightly wrap each slab in foil. Return slabs to unlit side of grill. Grill, covered with grill lid, 1 hour.
Remove slabs; unwrap and discard foil. Brush Sweet Barbecue Glaze on both sides of slabs. Grill slabs, covered with grill lid, on unlit side of grill 15 minutes or until caramelized.
The following two tabs change content below.
Managing Editor | Mark is a freelance journalist based out of Los Angeles. He's our Do-It-Yourself specialist, and happily agrees to try pretty much every twisted project we come up with.
Latest posts by Mark Masker (see all)