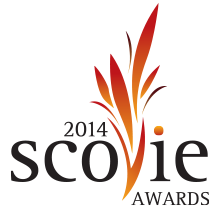 We are now less than three weeks away from the Scovie deadline of September 6.
Here's how Scovie wins have helped companies in the past:
"It was almost like that first kiss; the anticipation was nerve wracking and the results were beyond my wildest dream. It was a great experience and I can't wait to try it again." Jeff Shepherd, Lillie Belle Farms, 2008 Scovie Grand Prize Winner
"The Scovies are one of the most important things we do to market our product line. If we win a category we get bragging rights for a year and it helps increase sales of the winning item. The Scovies is the only spicy foods award contest to enter." Sarah Chavez, marketing director, El Pinto Salsa
You, too can be a Scovie winner, but you have to enter first! Today would be a great day to do that before the deadline closes in. And if you'd like to learn how we judge the contest, now you can watch our high-budget, award-winning short film in glorious Technicolor, by clicking here.
Scovie Judging
The judging will be held September 23 at the County Line BBQ Restaurant in Albuquerque.
To enter the 2014 Scovie Awards, go here. If you need more information, or if you have any questions, email Emily DeWitt-Cisneros here, or call her at (505) 873-8680.
Hottest regards,
Dave DeWitt, Scovies Founder
The following two tabs change content below.
Publisher | Christened the "Pope of Peppers" by The New York Times, Dave DeWitt is a food historian and one of the foremost authorities in the world on chile peppers, spices, and spicy foods.
Latest posts by Dave DeWitt (see all)