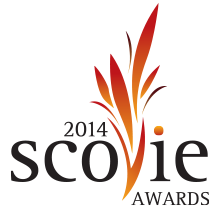 We are now less than two weeks away from the Scovie deadline of September 6. Here's how Scovie wins have helped companies:
"Winning back-to-back Scovie awards two years in a row was fantastic and helped open the doors to increased sales, but winning the 2012 Grand Prize Award for Tasting took us to a whole new level! We have quadrupled our distribution, taken our product international, and have been featured in industry periodicals and blogs increasing our product awareness. Having the Scovie sticker on our bottles and in our advertising gives us that 'little edge', setting us apart from our competitors."–Mike Bross, Pancali Foods
"Winning the Grand Prize of the 2006 Scovie Awards has put my company (Ashburn Sauce Company) and myself into another league in the sauce world and has opened a lot more doors."–Willard Ashburn, Ashburn Sauce Company
You, too can be a Scovie winner, but you have to enter first! Today would be a great day to do that before the deadline closes in. And if you'd like to learn how we judge the contest, now you can watch our high-budget, award-winning short film in glorious Technicolor, by clicking here.
Scovie Judging
The judging will be held September 23 at the County Line BBQ Restaurant in Albuquerque.
To enter the 2014 Scovie Awards, go here. If you need more information, or if you have any questions, email Emily DeWitt-Cisneros here, or call her at (505) 873-8680.
Hottest regards,
Dave DeWitt, Scovies Founder
The following two tabs change content below.
Publisher | Christened the "Pope of Peppers" by The New York Times, Dave DeWitt is a food historian and one of the foremost authorities in the world on chile peppers, spices, and spicy foods.
Latest posts by Dave DeWitt (see all)