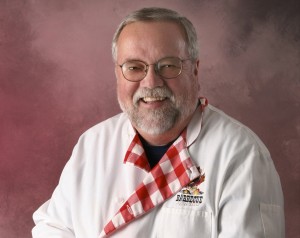 Another of our great guest chefs at the 26th National Fiery Foods & Barbecue Show is Rick Browne. His life in the barbecue arena parallels mine in chile peppers with one exception—he's the one with a national TV show! "Barbecue America" is broadcast in most markets in the U.S. but mysteriously, not by KNME, New Mexico PBS.  So if you haven't seen the program, you'll have to take my word that it's great. And now Rick is about to do something I did for twenty years—become the editor of a national food magazine. This one's called, unsurprisingly, Barbecue America. And yes, I will have a regular column in that magazine too.
Rick's latest book is A Century of Restaurants (Andrews McMeel), which is profiles of 100 restaurants in the U.S. that are all over a century old. There is one New Mexico restaurant in the book, La Plazuela, at La Fonda in Santa Fe. Rick wrote about the chef there, Lane Warner: "His award-winning versions of traditional dishes are some of the most innovative west of the Mississippi." The book features Chef Lane's Rellenos de La Fonda.
Speaking of recipes, here is the one Rick will prepare during his demonstration in the cooking tent at 3:30 on Sunday, March 2.
Taxi Stand Jerk Chicken with Pineapple-Mango Salsa
This recipe for jerk sauce is courtesy of Ray's Hideaway Restaurant and Taxi Stand in Montego Bay, Jamaica. It's fiery, but not incendiary, full of flavor, and well worth the effort to make it. There are as many Jamaican recipes for jerk as there are Jamaicans; I settled on this as the best of the best. Serve with big, iced bottles of Jamaican Red Stripe beer.
1/3 cup coarsely chopped shallots
4 green onions, green and white parts, chopped
1/2 cup olive oil
1/2 cup water
Juice of 2 limes
1/4 cup soy sauce
1/2 to 1 Scotch bonnet chile, stemmed, seeded, and chopped (substitute: habanero)
3 large cloves garlic, coarsely chopped
1 cup ketchup
2 tablespoons allspice
1 teaspoon nutmeg
1 teaspoon cinnamon
2 tablespoons ground ginger
1 teaspoon dried thyme
4 (4- to 6-ounce) skinless, bone-in chicken breasts
1 cup chopped fresh pineapple
1 cup chopped fresh mango
2 tablespoons chopped onion
1 teaspoon chopped jalapeño
1/4 cup chopped fresh cilantro
1/4 cup freshly squeezed lime juice
Salt
Freshly ground black pepper
In a food processor or blender, combine the shallots, green onions, oil, water, lime juice, soy sauce, Scotch bonnet, ketchup, allspice, nutmeg, cinnamon, ginger, and thyme and process until a smooth paste forms. Set aside.
Wash the chicken breasts and pat dry. Using rubber gloves, cover each breast with the jerk paste. Place in a resealable plastic bag and refrigerate for 4 to 8 hours.
Prepare a charcoal or gas barbecue for indirect grilling, placing a drip pan under the cool side of the grill rack. Preheat to 350 degrees F. Make sure the grill rack is clean and oil it thoroughly with non-stick cooking spray.
Remove the chicken from the bag and transfer to the prepared grill rack over direct heat. Cook for 5 minutes per side, then move the chicken to the cool side of the grill and cook for 10 to 15 minutes longer per side, until the internal temperature reaches 160 degrees F. Remove the chicken from the grill and let stand, covered, for 10 minutes.
Meanwhile, prepare the salsa by combining the pineapple, mango, onion, jalapeño, cilantro, and lime juice in a food processor and pulsing 3 or 4 times until all the ingredients are chopped but still chunky. Remove to a bowl, season with salt and pepper and set aside.
Serve each breast topped with a generous portion of salsa.
Serves 4.
The following two tabs change content below.
Publisher | Christened the "Pope of Peppers" by The New York Times, Dave DeWitt is a food historian and one of the foremost authorities in the world on chile peppers, spices, and spicy foods.
Latest posts by Dave DeWitt (see all)