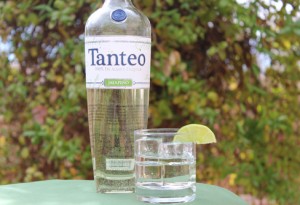 Flavored vodka has exploded in both popularity and absurdity over the last 5 years. You can find everything from sweet to savory on the vodka liquor shelf, but it's mostly low-quality and artificially flavored.
Tequila, however, which is overseen by the Tequila Regulatory Council of Mexico, couldn't legally contain any additional flavorings until 2004. As a result, you'll find fewer flavored tequilas at the stores.
One brand that has gone full-throttle with flavored tequilas is Tanteo, who sells 3 varieties: Cocoa Tequila, Tropical Tequila, and the one I'm sipping on for the Burn! Blog: Jalapeño Tequila.
Tanteo Jalapeño is a blanco 100% agave tequila. Jalapeño flavoring is added by infusion, and results in a very faint green liquid. Opening the wooden cork will immediately present you with a very familiar jalapeño smell – strong, bold, and spicy.
Tanteo Jalapeño has its uses, which I'll mention shortly, but I have to tell you it's not a good replacement for tequila in most of your cocktails. The strength of the jalapeño flavor (not necessarily the spiciness) makes a Tequila Sunrise or a Margarita off-balance. It's the first time I can remember drinking a cocktail that gave me bad breath!
I would recommend that the most useful place for Tanteo's Jalapeño variety is in cooking. Use it to simmer chicken fajitas or add a splash in your slow cooker when you're making a roast. The big flavor of this tequila will add lots of character to your cooking.
If you're dying to try Tanteo in a cocktail, though, I'd recommend pairing it with another, unflavored, tequila, to tone down the boldness that jalapeño flavor adds to a drink. Here's a fun recipe I invented for this tequila:
Jalapeño Bacon Margarita
Author:
Prep time:
Total time:
Ingredients
1 oz Tanteo Jalapeno Tequila
1 oz unflavored blanco tequila
1 oz lime juice
3/4 oz Torani Bacon Syrup
Instructions
Shake and strain into a salt-rimmed glass, either in a cocktail glass or on the rocks.
Garnish with a lime wedge and a jalapeño slice
Greg Mays is the managing editor of Simple Cocktails at www.simple-cocktails.com.
The following two tabs change content below.
Cocktail Editor | Greg is the classic cocktail aficionado and recipe developer at Simple Cocktails, his "place for the intimidated home bartender to shed some fear."
Latest posts by Greg Mays (see all)