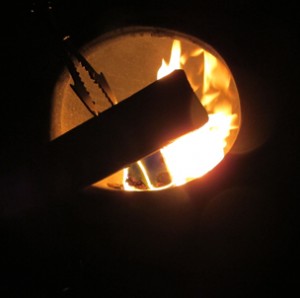 Warning: King Tong is not for the timid. And it shouldn't be. Not with a name that cool. C'mon. Depending on what type of movie you like, it sounds like either a pun on King Kong, a Chinese crimelord in a kung fu movie, or an adult film actor with a very strange "mutation." In reality, it's a heavy duty stainless steel pincer for manipulating coals and burning wood chunks from over two feet away.
Grill Daddy created it and King Tong appears as cool as its name. The 28-inch instrument's black oxide finish gives it the look of cast iron. Using serrated jaws isn't just functional, either. I'm pretty sure if I threw on a goalie mask and chased my nephews around clamping the pincers, Uncle Mark would be paying a pretty hefty therapy bill for a very long time.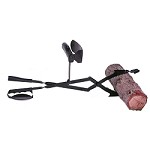 I tested it last Saturday night on my friend's outdoor chiminea. King Tong was overkill for that task. You don't need anything that heavy duty to move the few small logs most people use in a firepit that small. The point was to see how well it moved sizable wood chunks. That task was up King Tong's alley. Its larger, heavier serrated jaws put a good grip on small logs while the smaller jaws at the nose were good for maneuvering finer bits. Back hooks on the jaws' outer edges assist when pulling toward you, which is nice while raking a large bed of coals. Which is actually what King Tong is best suited to do.
Obviously, King Tong's not meant for moving charcoal briquettes in a kettle grill. A lot of the time I see more and more people using firepits to keep guests warm while the cook grills up yummies. That's where you keep King Tong. If your home operation fits that description, or you have a medium firepit or a fireplace, King Tong is a good addition to your barbecue tool arsenal.
The following two tabs change content below.
Managing Editor | Mark is a freelance journalist based out of Los Angeles. He's our Do-It-Yourself specialist, and happily agrees to try pretty much every twisted project we come up with.
Latest posts by Mark Masker (see all)