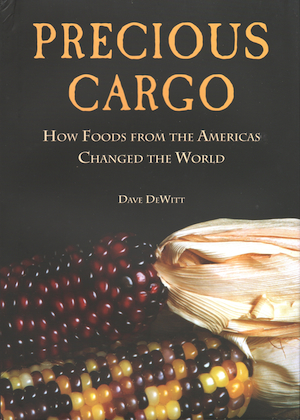 The most likely scenario for the introduction and spread of chile peppers into Africa south of the Sahara is as follows. Varieties of Capsicum annuum and chinense were introduced into all West and East African Portuguese ports during the 40 years between 1493 and 1533, with the introduction into West Africa logically preceding that of East Africa. The chiles were first grown in small garden plots in coastal towns by the Portuguese settlers and later by the Africans. Although it is has been suggested that chiles were spread throughout Africa by Europeans during their search for new slaves, the simplest answer is the best. The Portuguese may have been responsible for the introduction of chiles into Africa, but spreading them was for the birds. History–and evolution–repeated themselves. Precisely in the same manner that prehistoric chiles spread north from South to Central America, chiles conquered Africa.
African birds fell in love with chile peppers. Attracted to the brightly-colored pods, many species of African birds raided the small garden plots and then flew further inland, spreading the seeds and returning the chiles to the wild. Chiles thus became what botanists call a subspontaneous crop–newly established outside of their usual habitat, and only involuntarily spread by man. From West Africa, birds moved the peppers steadily east, and at some time chiles either reached the coast of East Africa or met the advance of bird-spread chiles from Mozambique and Mombasa. They also spread chiles south to the Cape of Good Hope. We must remember that these chiles were being spread by birds centuries before the interior of Africa was explored by Europeans. So when the early explorers encountered chiles, it was only natural for them to consider the pods to be native to Africa.
To purchase Precious Cargo, go here.
The following two tabs change content below.
Publisher | Christened the "Pope of Peppers" by The New York Times, Dave DeWitt is a food historian and one of the foremost authorities in the world on chile peppers, spices, and spicy foods.
Latest posts by Dave DeWitt (see all)