If you've been following chile farming, you know farmers and experts say New Mexico's green chile supply faces a threat you wouldn't expect—lack of labor. Most agricultural threats take the forms of insects, droughts, or other climate-related evil. In the case of New Mexico chiles, it's the fact that most of the field workers are over 50 years old, with not nearly enough younger people stepping in to fill the labor force. Fortunately, Moses may provide the miracle necessary to save the day.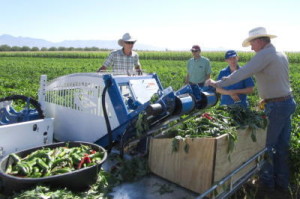 Recently, a device named the "Moses 1010″ rambled through a chile field near Las Cruces, pulling peppers and leaves in a row along the way. The machine is Israeli inventor Elad Etgar's invention. He conducted the harvest demo and named the machine after his late father.
Mechanical harvesting may be the solution New Mexico chile farmers need. NMSU (New Mexico State University) bought the Moses 1010 and the university plans on testing it on chile plots. The research's primary goal, however, is to breed pepper plants best suited to mechanical harvesting. Specifically, plants with pods that aren't snug to the main plant or low to the ground. NMSU is optimistic of Moses 1010's performance so far, saying that the harvester did an excellent job of removing the peppers with the least damage to the plants themselves. Etgar says the machine can harvest 98 percent of the peppers with only 2 percent being left in the field or damaged during harvesting.
The following two tabs change content below.
Managing Editor | Mark is a freelance journalist based out of Los Angeles. He's our Do-It-Yourself specialist, and happily agrees to try pretty much every twisted project we come up with.
Latest posts by Mark Masker (see all)