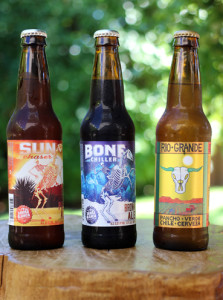 Writing and Photos by Greg Mays
In the light of last month's Burn Blog story about Stone's "beers that burn," I searched for other options in the world of chile beers, and found one just over the mountains in the east, from Sierra Blanca Brewing Company in Moriarty, New Mexico.
One of the older microbrew brands in the state, Sierra Blanca has been around for nearly 20 years, and they're one of the breweries that package their beer for retail sale, a hurdle that many microbreweries have yet to cross in New Mexico, and one that I assume is too costly for many of the new breweries to consider.
Hailing from eastern New Mexico, those roots are immediately obvious in both the alien brews and the cowboy line. In fact, it seems that there are three distinct lines of beer that you can find at Sierra Blanca:
The Aliens: featuring an amber ale, wheat, and imperial stout.
The skeletal-horses: the newly-branded pale ale and brown ale.
The Rio Grande beers: including a lager, pilsner, IPA, and Green Chile Cerveza (more on that in a moment).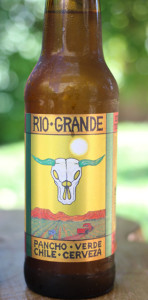 Obviously, it's the green chile beer that attracted me to Sierra Blanca for this post. Because of the new apocalyptic branding of some of their ales, they asked me to try three of their beers for the Burn Blog. Here are my thoughts.
First and foremost, let's talk green chile. Pancho Villa Chile Cerveza is a surprising beer in many ways. If you smell it once in a glass, the green chile is faint and subtle, when you smell it a second time, it's more pronounced. The same goes with the tasting: subtle, yet obvious green chile flavor that seems to fit with the beer.
Now Sierra Blanca isn't too clear about what type of beer that Pancho Villa is, but I'd guess it's a light ale of some kind, maybe a blonde. I've mentioned here before that there are ways to add chile and spices to alcohol that seems to work, and this one falls in that camp. It's the "bitier" chiles like jalapeno, nagas, and scorpions that are overwhelming in a drink. I have found that chipotles, red and green chiles are usually a decent fit in certain drinks and cocktails. Because of that, Pancho Villa would be a really fun beer to include in a beer-garita type drink.
For the other two ales I tried, the Brown is very low on the bitterness scale, and I'd describe it as chocolatey and sour. Browns are pretty easy-to-drink in general, but I found this one a bit thin-tasting for my beer tastes. The Pale Ale is a more bitter beer than the Brown, and is a buttery and creamy tasting. Not a ton of hop complexity here, but it's easy to drink and has a quick, crisp finish which ultimately made the Pale Ale my favorite of the bunch.
This continues to be quite an experience for me, tasting and critiquing the way that spiciness can work with alcoholic drinks, and sometimes it's a poor fit, better used in cooking than in drinks. Stick around as I keep digging up spicy liquids to sip on, and if you have any suggestions that I haven't found yet, drop me a line!
Greg Mays is the Managing Editor of www.simple-cocktails.com.
The following two tabs change content below.
Cocktail Editor | Greg is the classic cocktail aficionado and recipe developer at Simple Cocktails, his "place for the intimidated home bartender to shed some fear."
Latest posts by Greg Mays (see all)