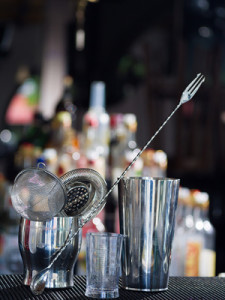 By Greg Mays, Burn! Cocktail Editor
While there are dozens of bar tools available from liquor stores to housewares, there are really only 7 tools that you need to get your home bar started, and most of them are very inexpensive, or at least have lower-priced alternatives. Here is a list of recommendations.
1. Measuring cup. Measuring your liquids for cocktails is essential for making balanced drinks. While I have jiggers and other fancy measuring tools, I use these 4 oz measuring glasses all the time. They're dishwasher safe and I've had them for years.
2. Mixing glass. Some cocktails should be shaken and some should be stirred. For stirred drinks, a standard pint glass will be fine, though something with a wider base is better in the long run. A Yarai Mixing Glass is elegant and professional, but they're also $40. If you saw my presentation at this year's Fiery Foods Show, I told you I bought six 600ml beakers for $30 that I use to stir my cocktails.
3. Strainer. You really can't stir drinks (see #2 above) without a strainer to pour the finished product through. The best strainers I've found are usually the cheapest. I bought this one for about $4.

4. Shaker. While most professional bartenders use a Boston Shaker, I've found a 3-piece shaker (also called a cobbler) like this one has worked best for me at home. These will run you $10-20.
5. Knife. You'll be cutting lots of citrus to pour into your cocktails, so make sure you have a knife to do it with. I have 5 or 6 Kuhn Rikon paring knives ($10 each), and I use them until they wear out.
6. Squeezer. This may be the most expensive on the list, because you need a juice squeezer that'll last you. I realize that you can just use your hand to squeeze the citrus for your cocktails, but you'll get way more juice if you use a squeezer like this, which is about $25.
7. Glassware. Using the proper glassware for your cocktail is essential. Save plastic, paper, or other vessels for the frat house. Now that you're making great cocktails, use the proper glasses. I buy most of my glassware at goodwill for $0.25-$1 per glass.
Greg Mays is the Managing Editor of www.simple-cocktails.com.
The following two tabs change content below.
Cocktail Editor | Greg is the classic cocktail aficionado and recipe developer at Simple Cocktails, his "place for the intimidated home bartender to shed some fear."
Latest posts by Greg Mays (see all)