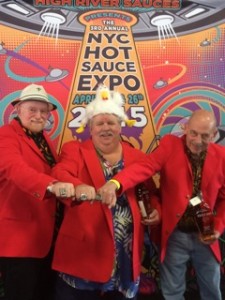 By Lucas Hunt
"I have just one group of people to thank; the one million people in Chilehead Nation." –Dave Dewitt's acceptance speech for The Hot Sauce Hall of Fame
A beautiful young woman elbowed thru a raucous crowd. Her eyes were red, and tears ran down her cheeks. She handed her boyfriend a carton of milk. He took a large gulp, and passed it back. "For a hot second it helps, then it doesn't," she said.
Welcome to the 3rd Annual New York Hot Sauce Expo, bigger and better, back in Brooklyn after a leap year in midtown Manhattan. Billed as The Hottest Show on Earth, this year's theme was "Attack of the Peppers," which it literally was.
My brother Jeff and I visited the Execution Station at CaJohns hot sauce stand. We were buzzing. Vic Clinco, curator of the world's largest hot-sauce collection, man with a cock on his head (rooster hat), doled out seven sauces of ascending delicious pain. "New York is not as diehard as Albuquerque," Clinco said, in response to my question of how people were handling the heat in New York.
While some came for the exotic flavors of peppers blended with spices, fruits and vegetables, others were clearly there for the heat. Was it culinary masochism? Are hot peppers a way to get high without the edge of LSD or magic mushrooms? CaJohns sauces are visceral, intense and tasty. They are meant to go with food, yet we sampled healthy squirts on little plastic spoons. (The trick is to flip it so the sauce hits your tongue, not your palette, first.)
Ironically, before starting CaJohns almost 20 years ago, founder John Hard was a professional fire protection engineer. I asked him about his experience in the business and induction into the newly minted Hot Sauce Hall of Fame. "We try to keep making better and better sauces. I was really surprised and honored to just be on the list of nominees this year. And the people at this festival are really nice."
We wandered amid the cocktails, craft beers, press passes and VIP bracelets. The crowd was young and ready to experiment. There were dozens of stands, with hundreds of sauces and fiery foods to try. Horseradish sauces, hot wing sauces, dried chili dusted popcorn, pepper infused cream cheese, spicy dried beef jerky, to name a few. Outside, local food trucks and restaurants cooked up a feast.
Heartbreaking Dawns makes sweet, fruity blends of Ghost, Scorpion and Reaper hot sauce, the holy trinity of superhots. But it was the datil, a lesser known, yet extremely spicy pepper, that brought founder Johnny McLaughlin to the festival.
"Even as a boy, I was drawn to adventurous eating, and out of the box dishes," McLaughlin said. "I grew up near St. Augustine, Florida, where datil peppers are part of the cuisine. My grandparents introduced me to them, and I went on to create my own recipes such as End of the World Chili, and a Led Zeppelin inspired dish called Hammer of the Gods."
We bought four bottles of Heartbreaking Dawns with names like Cauterizer and Mauvais Sang (Bad Blood in French) for twenty dollars. A super fiery hot-wing eating contest was underway. A crowd stood before the stage. Men shoved wings in their mouths and chewed with really grim determination. Suddenly everyone was shouting "10… 9… 8… 7…" The countdown was on.
A Hot Sauce Hall of Fame was established this year to honor lifetime contributions of people in the pepper world. Five prominent figures from the fiery foods industry were inaugurated; Dave Dewitt aka The Pope of Peppers, John Hard from Cajohns, Edmund McIlhenny from Tabasco, Chip Hearn from Peppers.com and Dave Hirschkop from Dave's Insanity.
Each of the men were awarded Super Bowl-sized rings, engraved bottles of bourbon, and red dinner jackets a la The Master's golf tournament. Dave Dewitt, award-winning author, and founder of the National Fiery Foods Show, summed up his prolific career in a brief acceptance speech. "I have just one group of people to thank; the one million people in Chili Head Nation," he said.
Ed Currie, creator of the Guinness Book of World Record's hottest pepper on earth, The Caroline Reaper, invited Jeff and I to his booth at Pucker Butt. Ed had just accidentally gotten dust from a 16 million Scoville unit crystal on his face. I won't try to explain how absolutely crazy that is. It was a miracle he was there. A film crew awaited us, and Ed handed over two raw, whole Reaper peppers, aka pods.
We put Reaper pods in our mouths and chewed. An attractive woman with a microphone asked us to describe it. A crowd gathered. The taste was sweet, like a very sharp red bell pepper. It was not that hot. I swallowed, no burn. Ever so faintly, there was a bite. If you have ever fished, it felt like a tug on the pole. Only I was on the hook, and Ed Currie was the fisherman.
The initial singe became a scorch. One thing became extremely clear; the rise in fiery pain was going to be slow and long, with no end in sight. You could not get around it; you just had to suffer through.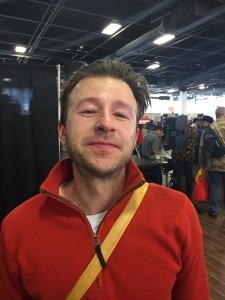 My hands and feet vibrated with what felt like electric current. I floated in the air, arms and legs numbed. The crowd grew larger, now in awe and pity for my sweaty, veined temples, runny nose and tearful cheeks. It was strangely cathartic to hurt like that in public. A hand lay on my shoulder, and someone asked if they could get me anything. I said no, and tried to describe it on camera. It was excruciating.
Then Ed Currie did something I will never understand. He passed me a little spoon full of 6 million Scoville unit Reaper extract, which I put on my tongue. It measured at least three times hotter than the Reaper pod on the Scoville scale. I spun in a daze outside time; my entire body pulsed. At some point, one of the guys from Pucker Butt brought us ice cream. It was time to go.
As we left the Hot Sauce Festival, James Beck from iBurn, a specialty hot sauce store in Houston, stopped us. "Hey guys, I actually have the hottest stuff here," he said. "It's a 6.5 million Scoville unit Ghost pepper and extract blend. I give out samples on a toothpick. Stop by." he said.
We did not.
The following two tabs change content below.
Managing Editor | Mark is a freelance journalist based out of Los Angeles. He's our Do-It-Yourself specialist, and happily agrees to try pretty much every twisted project we come up with.
Latest posts by Mark Masker (see all)