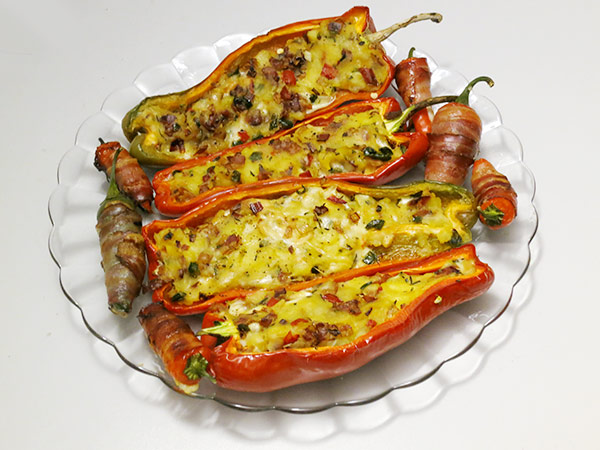 Stuffed chiles and peppers are among our favorite spicy dishes and new recipes crop up all the time from the ingredients we must use up before taking a trip. Sometimes they're really great, when we invent a dish like "Red Boats," using a half of a mild, long frying pepper, or substitute red bells. The pepper halves are stuffed with an upbeat potato and cheese filling. Highly recommended for your enjoyment from your chilehead Germans living in Italy!
Red Boats – Spicy stuffed peppers
Author:
Prep time:
Cook time:
Total time:
Ingredients
2 Spitzpaprikared (z. B. ("Corno")
2 Jalapeños, 1x red, 1x green
4 potatoes, medium sized, mealy
1 scallion
1 garlic
1 bunch herbs fresh (marjoram, rosemary, …)
50g bacon, cubed
50g cheese (tip: scamorza smoked – perfect for bacon!)
2 tablespoons olive oil
1 tablespoon butter, soft
3 tablespoons milk (room temperature)
Ground black pepper (to taste)
Ground nutmeg (to taste)
Instructions
Slice the red peppers in half lengthwise, remove their interior. Remove the seeds and stalks from inside the jalapeños stalks, and dice. Finely dice the cheese.
Chop the spring onion (also a little bit of green part); chop the garlic and herbs finely.
Peel the potatoes and boil them in a small glass bowl in the microwave with a little water until soft. Then crush them to a pulp. Adjust consistency with a little butter and milk, season with nutmeg and pepper.
In a small pan, fry the bacon and jalapeno with a little oil; Add the garlic and cook a little further.
Add the mashed potatoes and mix well. Finally, stir in the cheese cubes.
Spread the mixture into the pepper halves and place them on an oiled grill tray.
Grill for indirectly at about 200-220 ° C (if using gas, turn the two outer burners to high and leave the middle burner turned off).
Cook "Boats" in the closed barbecue grill for about 45 minutes. Serve hot.
The following two tabs change content below.
European Chilehead Editor at Large | Harald's Chili Pepper Buch 2.0 is the bestselling chile book in German-speaking Europe. He covers European chilehead culture and his own spicy kitchen encounters for Burn Blog.
Latest posts by Harald Zoschke (see all)