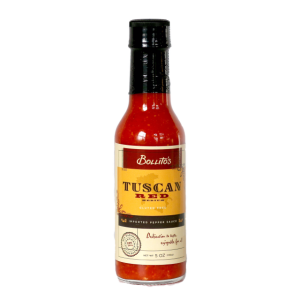 While it does have some kick, Bollito's Tuscan Red Sauce ain't no mouth-incinerating bottled inferno. It's more of a pepper sauce than a hot sauce. That's because creator/proprietor/sammich maker Zach Cizek used Callabrian peppers as the basis for the stuff. It's my personal new favorite for beef dishes because its tangy, garlic yummy finishes with a mild kick with each bite. Here's what Zach had to say about Bollito's, his inspiration, and the sauce itself.
BB: What do you use the sauce on? What's it best for?
ZC: The sauce can be used like a Sriracha. You can put it on anything from morning eggs to late night bar pizza. It enhances flavor without taking away from it. There are some restaurants here in Chicago that use my Tuscan red. A lot of the sauce goes a little way. It has less heat than a Sriracha. I'm introducing some recipes I put together online this weekend for people to try out.
BB: Tell us about the company and your background in food.
ZC: I'm a medical sales rep as my full time job. I started June 1 2014 at a street fest selling sandwiches. In between junior and senior years in college, I was in Florence, Italy where I found this sandwich at a food cart. There was a long line so I figured it must be good. Long story short, that became the inspiration for Bollito's. A bollito is a braised brisket sandwich that's popular there. I loved it and I needed to learn how to make it when I got back. So I spent three years researching the sandwich. Following my launch, I've sold at multiple festivals and street fairs. At the hot sauce festival in Chicago, I busted out this sauce (I'd bottled it for the festival). Everyone kept asking me about the pepper, and I took second at the festival. In between my sales calls, I dropped off my sauces at retailers and grocers. That's where I am today. Bollito's is in eleven locations in Chicago, plus Whole Foods in the Midwest. I'm projected to add even 30 more stores beyond that.
BB: How did you come up with the idea for the sauce?
ZC: It's based on the Callabrian pepper. I'm told it's Bobby Flay's favorite to cook with. The pepper's grown just south of Naples on the coast. It gets its flavor from that hot, rocky Mediterranean climate. I get them imported from a farm in Italy in 50 gallon drums to an import company in Chicago. I turned them into a sauce.
BB: How are they different?
ZC: The climate. The Callabrian region is known for it's rocky, hilly climate. They have a flavor profile with a subtle heat that doesn't stay with you. It's different but good. I de-stem my peppers manually and leave a little pulp in the sauce. That's how we do it for the sauce on our sandwiches. That's how we differentiate it. You really taste the subtlety, fruitiness, and texture of the pepper.
BB: What are your future product plans?
ZC: We're adding a line of condiments and salad dressings. Tuscan mayo, red mayo. We'll be launching our green sauce and a Tuscan red salad dressing. Our goal is to open up a chain of products to the consumers and develop a brand with Bollito's. We concentrate on organic, naturally grown peppers imported from Italy. Eventually, I'm opening a Bollito's storefront selling the sandwiches. Bollito is a concept of cooking: slow simmer of a meat. I'm adding it to pork, chicken. I want a place inspired by quality ingredients where you get the flavor of Italy and the Bollito concept of cooking meat.
BB: What do you like most about your business?
ZC: I would say taking my motto of dedication to taste, enjoyable for all. Dedicating a product that's tasteful to the customer and enjoyable for everyone from younger kids to older adults. I like concentrating on enhanced flavor without overheating your socks off. Always changing, always evolving to the next level.I love where we've taken our Tuscan red sauce. Just the innovation and thinking outside the box is rewarding.
BB: What was the hardest part of getting it started?
ZC: Saying "go." I wrote up my business plan in college, and did my research. I drive a lot for work and listened to Tony Robbins on tape. If you're passionate about something, do something where you absolutely have to go down the road to follow that passion. After hearing that, I signed up for a summer festival and had nine months to get it together after putting down the $500 fee.
BB: If you started now what would you do differently?
ZC: I would be more conscience about simplicity and focus on the product at hand. I tended to think too far outside the box. I spent a lot of money on all the bells and whistles for my display. I would have had a great logo and brand, but focused more on the customer and what they want and how to meet that.
The following two tabs change content below.
Managing Editor | Mark is a freelance journalist based out of Los Angeles. He's our Do-It-Yourself specialist, and happily agrees to try pretty much every twisted project we come up with.
Latest posts by Mark Masker (see all)