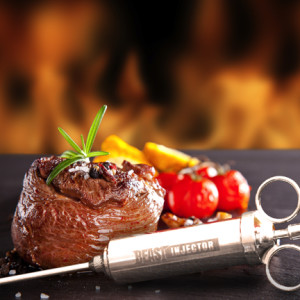 Mike Stines Reports:
I recently received a box from Grill Beast that included several items: a thermometer, a pair of BeastArmor gloves, a set of BeastClawz and a BeastInjector in a combination called the "BeastKit."
While the four-piece package had useful items that I will add to my arsenal of BBQ gear, my favorite was the injector. Unlike some other brands that have a plastic barrel and short (2 1/2-inch or so) needles the "BeastInjector" has a metal barrel with two 5 7/8-inch needles. The stainless-steel barrel holds two ounces of marinade making it easy to inject large pieces of meat such as a brisket or pork butt. It's also dishwasher safe and covered by a lifetime warranty.
The injector comes with three needles – two of which are 5 7/8-inches long… one is a simple needle with a beveled tip and the other hosts 12 injection ports along the length of the needle to evenly disperse a marinade. The third needle is shorter… about 3 1/2 inches and is designed for precision injection into smaller pieces of meat (think chicken thighs or steaks).
The four piece kit retails for $90.97. The injector alone is $25.97. The tools are well worth the investment as they all carry lifetime warranties and a money-back guarantee.
Created by Dave Johnson, the company is based in New Orleans. More information is available at GrillBeast.com. (Be sure to check their current specials… they have some great deals!)
The following two tabs change content below.
Publisher | Christened the "Pope of Peppers" by The New York Times, Dave DeWitt is a food historian and one of the foremost authorities in the world on chile peppers, spices, and spicy foods.
Latest posts by Dave DeWitt (see all)