By Mike Stines, Ph.B.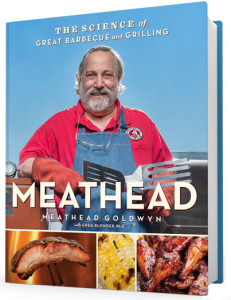 If you're the kind of backyard cook that throws pre-packaged burgers on a screaming hot grill until you have something that resembles hockey pucks or grill hot dogs until they are incinerated, this book is not for you.
But, if you enjoy succulent meals from your grill or smoker and would like to know what's the science behind the cooking Meathead: The Science of Great Barbecue and Grilling is a book you want to have. Published by Houghton Mifflin Harcourt, the $35 richly illustrated book has more than 100 pages of "techie" stuff and an equal number of pages devoted to recipes – some the traditional BBQ fare found on the Internet and in other cookbooks but other unique creations that Meathead has crafted.
Meathead Goldwyn lives about 13 miles west of Chicago and penned this book along with Greg Blonder, Ph.D. (who provided much of the science behind the cooking) to create an informative compellation that debunks many BBQ myths that abound (soaking wood chips, bringing meat to room temperature before cooking, beer can chicken, letting meat rest before serving and adding salt to rubs among others).
I like this book and Meathead's website AmazingRibs.com… a website that grew from humble beginnings and now generates about $500,000 a year in revenues with an average of 1.5 million viewers each month. Although the book is somewhat techie and nerdy with various theories and "scientific" reports that fill the first half of the 384-page book and are sprinkled throughout the rest of the book, the recipes – even riffs on the classics – are spot-on. Goldwyn also includes a bevy of product reviews and recommendations.
Although a KCBS certified judge and a former judge for the Jack Daniel's competition and the first Kingsford Invitational, Goldwyn has limited his judging: "I get bored easily, so I don't do it anymore," he said of his judging experience and he doesn't do competition cooking. "I do not compete," Goldwyn explains. "I don't have the time and tailor my writing to the backyard cook. Competition cooking is very different than backyard cooking."
Here's one recipe that I found interesting:
D.C. Mumbo Sauce
"Washington, D.C., is the nation's most international city," Goldwyn writes. "Much of the population comes and goes with the political tides. As a result, there aren't many indigenous dishes, but there is one concoction the locals proudly claim as their own: mumbo sauce. Since there is no official recipe, I've created one inspired by the best examples I've tasted in the D.C. area. Try it on fried chicken, fish, shrimp or egg rolls."
1 cup sugar
1 cup distilled white vinegar
1 cup pineapple juice
1/2 cup tomato paste
4 teaspoons soy sauce
1 teaspoon ground ginger
1/4 teaspoon hot sauce or more if you wish
Mix all the ingredients together in a saucepan and whisk to break up clumps of tomato paste and ginger. Simmer over low heat for about 20 minutes to marry the flavors and thicken a bit. Do not let the sauce boil.
Yield: about 2 2/3 cups
Heat scale: Mild to medium
Grilled Baked Potatoes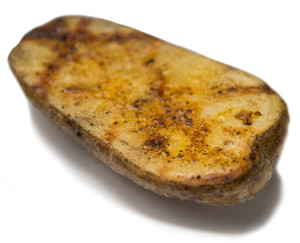 "When baking a potato, we are faced with a food whose center and surface need separate treatment, just like meat. We want a soft, moist, fluffy inside and a dry, crisp skin… a two-zone setup and reverse sear are the solution."
Meathead recommends an internal temperature of 205 degrees F. for al dente potatoes (a bit crunchy), 208 degrees F. for crumbly and 212 degrees F. for fluffy.
1 russet Burbank potato (about one pound)
2 teaspoons kosher salt
2 teaspoons Meathead's Memphis Dust (recipe follows)
4 tablespoons butter, melted
With a brush or scrub sponge devoid of soap, scrub the potato skin to remove all dirt, but not so hard as to remove the skin. Cut out any bad spots. Slice the potato in half lengthwise.
While the potato is wet, generously sprinkle salt all over and press it in. Then sprinkle with the spice rub. Let sit at room temperature for 15 to 30 minutes, so the salt will dissolve and begin migrating toward the center.
Set up your grill for two-zone cooking and shoot for about 325 degrees F. in the indirect zone.
Put the potato halves on the indirect-heat side of the grill and let them bake, cut side up, lid down, for about 90 minutes, until the temperature in the center is 10 to 15 degrees below your target.
Paint the potatoes all over with melted butter. Move them to the direct-heat side, cut side down, and let the cut sides toast, lid down, for about three minutes until they start to get golden. Don't continue painting them if you want crispy skins. Roll them over and brown the skin sides.
Remove the potato halves from the grill, mash the insides with a fork, and gussy them up if you like.
(Meathead suggests horseradish sauce, fresh thyme, chives, bacon and malt vinegar among other accoutrements to enhance the spuds.)
Serves: 2
Heat scale: Mild
Meathead's Memphis Dust
"Although this recipe is formulated for pork, I've used it with success in sausage blends, on smoked salmon, on celery stuffed with cream cheese, on the rims of Bloody Mary glasses, and even in popcorn," Meathead pens.
3/4 cup packed dark brown sugar
3/4 cup granulated sugar
1/2 cup paprika
1/4 cup garlic powder
2 tablespoons freshly ground black pepper
2 tablespoons ground ginger
2 tablespoons onion powder
2 teaspoons crushed dried rosemary
Mix all the ingredients together in a bowl. If the sugar is lumpy, crumble it by hand or against the side of the bowl with a fork.
Yield: about three cups
Heat scale: Mild
(Mike Stines is our Grilling & BBQ editor. Formerly senior editor for Fiery Foods & BBQ magazine, Mike holds a "Doctorate of Barbecue Philosophy" (Ph.B.) degree from the Kansas City Barbeque Society. His book – Mastering Barbecue (Ten Speed Press, 2005) – has been called the "go-to" book for BBQ knowledge. He's a former professional chef who lives on Cape Cod and travels internationally judging BBQ competitions.)
The following two tabs change content below.
Publisher | Christened the "Pope of Peppers" by The New York Times, Dave DeWitt is a food historian and one of the foremost authorities in the world on chile peppers, spices, and spicy foods.
Latest posts by Dave DeWitt (see all)