By Mike Stines, Ph.B.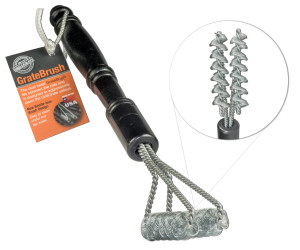 Although the "valley brush" is tailored for the Grill Grate system (I reviewed the GrillGrates here in 2012), their product line has expanded to include grates for almost any grill whether it be a gas grill, kamado-style, kettle grill or pellet cooker and a wide variety of accessories.
The Valley Brush also works on any grill surface. By running the brush perpendicular to the GrillGrate surface instead of in the valleys it will also clean the top of the aluminum panels. Made of double helix stainless steel wire, the brush head has no bristles that can become detached and end up in the food (the earlier model had brass bristles). With a 9 1/2-inch plastic handle, the 15-inch brush features two conical-shaped brushes that allow the brush head to fit inside the raised aluminum grates on the GrillGrate.
While the brush worked very well in removing accumulated gunk in the GrillGrate valleys and atop the ridged surface, I found the brush difficult to remove and its design didn't let the entire grate to be cleaned. An adjustment with pliers to open the distance between the brush heads seemed to help.
Manufactured by Brushtech in upstate New York for GrillGrates, based in Cartersville, GA, the brush sells for $16.99. It is also available as part of the "GrillGrate Cleaning System" that includes a package of Groover Grill Cleaner and Grate Chef Grill Wipes for $22.99. More information about the improved Valley Brush and all of the GrillGrate line is available at grillgrate.com.
The following two tabs change content below.
Publisher | Christened the "Pope of Peppers" by The New York Times, Dave DeWitt is a food historian and one of the foremost authorities in the world on chile peppers, spices, and spicy foods.
Latest posts by Dave DeWitt (see all)