By Mike Stines, Ph.B.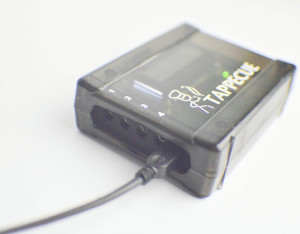 Innovating Solutions, the creator of the Tappecue remote monitoring thermometer, has updated and upgraded the popular device. I first reviewed the Tappecue three years ago. I was impressed by the versatility and features which included four probes for measuring meat and pit temperatures (eliminating the need for multiple thermometers), a WiFi interface and the ability to work with iPhones, iPads, iPods and Android devices. The original review can be found here.
The newest features include a water-resistant case with water-resistant foam around the jacks for the probes, an internal antenna, a polycarbonate plastic enclosure and a mounting bracket to attach the Tappecue to your deck or cooker side shelf. The new Tappecue, like the original, is not waterproof but the improved housing and seals make it water resistant and allow the unit to be used in a light storm. (It's still a good idea to enclose the unit in a resealable plastic bag if bad weather is in the forecast.) Software upgrades allow the Tappecue to be set up on a Mac or a PC and temperatures may be viewed with any web browser although the cooking session needs to be initiated using an iOS or Android device. The company says the WiFi range is 180 feet from the cooker to the WiFi hub.
Another new feature is the Tappecue Session Book where your cooking session is stored on the Innovating Solutions server for future retrieval. Session Book is a value-added feature at $9.95 per month or $1.99 per session. (Session Book offers a free trial.) The power supply has also been changed from a barrel plug to a mini USB connector allowing the unit to be connected to an external power supply. The company has also added accessories for the Tappecue: a storage/ weather resistant case that allows the unit to be stored outdoors (although useful for mobile food operations I have no idea why a backyard cook would want to do that), chamber probes with clips that attach to the grill grate, long probes with pot clips for monitoring soups and sauces and "Extra-Care" probes that have higher resistance to humidity.
To use the Tappecue you'll need: An Internet enabled smart device – iPhone/iPod Touch with software iOS 7.x or above or an Android Phone with version 3.0 or above (although you may still look at the temperatures on the actual device LCD Panel), Wi-Fi router or mobile hotspot, Grill/Smoker/Oven, access to a Windows XP or above or MAC Mavericks (10.9) or above computer to set up the WiFi on the Tappecue. (This is only required during initial set up and/or when you wish to change the router configuration).
If you already have the original Tappecue, it is not necessary to uninstall and reinstall new software but you do need to register V 2.0 using your previous account and password. The newest Tappecue retails for $199… the same price as the original and includes four temperature probes with six-foot cables, an AC power adapter and a USB cable used during set-up and for powering the unit. Will the new Tappecue turn you into a competition-level BBQ master? No, but it will keep you informed how your meat is cooking and how your pit is behaving making your smoking session easier and recording the session so it may be repeated. More information is available at Tappecue.com.
(Mike serves as our BBQ, Grilling and Gadgets editor. He has a yard full of cooking hardware – smokers, grills, a pellet cooker and a bevy of miscellaneous cooking hardware. His garage has no room for a car. It's filled with more cooking gear, various accessories, cases of wood and bags of pellets. His third cookbook is Mastering Barbecue published by Random House.)
The following two tabs change content below.
Publisher | Christened the "Pope of Peppers" by The New York Times, Dave DeWitt is a food historian and one of the foremost authorities in the world on chile peppers, spices, and spicy foods.
Latest posts by Dave DeWitt (see all)