By Mike Stines, Ph.B.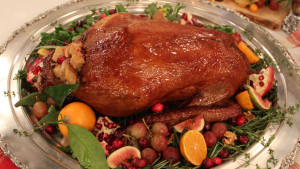 Thanksgiving has come and gone. You've had enough turkey, stuffing, green bean casserole and a variety of side dishes to give you a carb overload. But Christmas is coming and you have a boatload of relatives coming from near and far for dinner. What's on the menu?
Goose is a traditional Christmas dinner in Europe… think of Charles Dicken's A Christmas Carol and Scrooge. Scrooge actually provided the Cratchit family and Tiny Tim a turkey. But let's use a little literary license and make the dinner goose. Goose, instead of turkey, is a Western European tradition because geese were plentiful and less expensive than turkey.
Clearly a goose is not a turkey, nor a chicken or a duck… it cooks differently and is carved differently. Goose also has a lower meat-to-carcass weight ratio than turkey or chicken. A goose also renders a lot more fat than other poultry while roasting. Expect a 10-pound goose to render up to one quart of fat during cooking. (Save the fat for using in roasted potatoes and other recipes. It will keep, refrigerated, for six months.)
When buying goose, look for a bird that is between eight and 12 pounds and about six to eight months old. Allow 1 1/2 to two pounds of uncooked goose per person. Unfortunately, fresh goose is usually only available in October. The rest of the year you'll have to rely on frozen goose.
To prepare a goose cut off the excess fat from the neck and from the inside cavities. Score the skin of the back, breasts and legs to let the fat render as the bird cooks.
In homage to my heritage, I decided to prepare a German-style roast goose with some variations for Christmas. Instead of using the traditional stuffing of apples and chestnuts I used aromatics inside the goose during cooking and prepare the dressing as a side dish. Other characteristic side dishes are Rotkohl (red cabbage) and Klösse (potato dumplings).
Christmas Goose
1 (8- to 10-pound) goose with giblets
Coarse kosher salt
Freshly ground smoked black pepper
1 bunch marjoram
1 cup raisins
2 onions, peeled and quartered
2 cups apple juice or cider
Remove the giblets, neck and fat from the goose (use for stock if desired). Sprinkle salt and pepper into the goose cavity and over the goose. Wash the apples and quarter. Wash the marjoram and pat dry. Combine the marjoram, apple, onions and raisins. Loosely stuff the goose with the mixture.
Place the goose on a rack on a roasting pan with the breast side down. Pour one cup of apple juice into the pan. Roast in a heated 350 degrees F. oven for 1 1/2 to 2 hours until the skin is crisp. Flip the goose over and pour another cup of apple juice into the pan. (The total cooking time will be about 20 minutes per pound. The final internal temperature should be 170 degrees F.)
Remove the goose from the oven, loosely tent with foil and allow the bird to rest for 15 minutes before carving.
Serve the goose with braised red cabbage, dumplings, chestnut stuffing, and gravy. Garnish with marjoram, slices of apple and bay leaves.
Resources
Search the Internet for "frozen goose for sale" and you will find many sources of goose by mail order. But the easiest way to buy a goose is from Whole Foods Market. They have a business arrangement with Pitman Family Farms to carry Mary's Free Range Geese. More information is here.
(Mike serves as our BBQ, Grilling and Gadgets editor. He has a yard full of cooking hardware – a couple of WSM smokers, three propane-fired grills, a Big Easy infrared cooker, a Grill Dome Infinity XL ceramic cooker, a Yoder YS-640 pellet cooker and a horde of miscellaneous cooking hardware. His garage has no room for a car… it's filled with more cooking gear, various accessories, cases of wood chips and bags of pellets. His third cookbook, Mastering Barbecue, is published by Random House.)
The following two tabs change content below.
Publisher | Christened the "Pope of Peppers" by The New York Times, Dave DeWitt is a food historian and one of the foremost authorities in the world on chile peppers, spices, and spicy foods.
Latest posts by Dave DeWitt (see all)