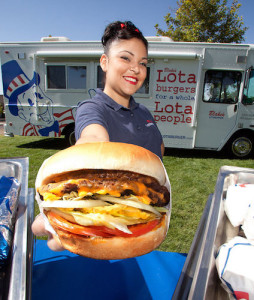 For 2016, USA Today named Blake's Lotaburger, with 76 locations statewide as having the best green chile cheeseburger in New Mexico. Here are the 10 best, according to 10Best, USA TODAY and Sandwich America readers:
Blake's Lotaburger – Statewide
Owl Cafe – Albuquerque & San Antonio
Big Mike's Grill – Belen
Sparky's – Hatch
Anaheim Jacks – Ruidoso
Mine Shaft Tavern – Madrid
Buckhorn Tavern – San Antonio
Santa Fe Bite – Santa Fe
El Farolito – El Rito
Rockin' BZ Burgers – Alamogordo
A panel of experts picked the initial 20 nominees, and the top 10 winners were determined by popular vote. Experts Billie Frank (Santa Fe Travelers) and Lydia Schrandt (10Best Editor) were chosen based on their extensive knowledge of New Mexico cuisine.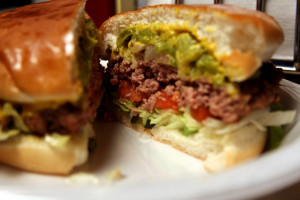 Blake's Lotaburger, which opened in 1956, is generally credited with popularizing the use of green chile in cheeseburgers, so their award is highly appropriate. In 2009, Bobby Flay competed with Bobby Olguin of the Buckhorn Tavern in San Antonio, NM, and Olguin won! The winning burger is at the left. The green chile cheeseburger is the unofficial New Mexico State Dish, and the Department of Tourism has developed a Green Chile Trail promotion for restaurants that specialize in serving the iconic dish.
Recently, Blake's Lotaburger has added a new green chile item to its menu: Green Chile Tarter Sauce. It's for use on their fish dishes during Lent.
The following two tabs change content below.
Publisher | Christened the "Pope of Peppers" by The New York Times, Dave DeWitt is a food historian and one of the foremost authorities in the world on chile peppers, spices, and spicy foods.
Latest posts by Dave DeWitt (see all)