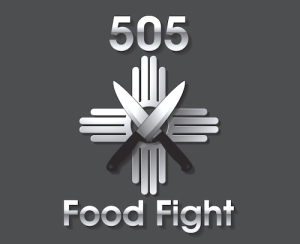 Coming to the 29th National Fiery Foods & Barbecue Show, March 3-5 at Sandia Resort & Casino will be five Food Fights featuring six talented restaurant chefs helping to support Project Lunchbox. The preliminaries will be on Saturday in the Eagle Room and the semi-final and final matches on Sunday in the same venue. Admission to the Fights will be a minimum donation of $10 to support the charity that helps pay off students' lunch debts that prevent them from receiving a full meal. All admission fees will be donated to Project Lunchbox, administered by the Albuquerque Public Schools Foundation.
Chefs Competing in the Special Edition 505 Food Fights
David Sellers, Street Food Institute
Fernando Ruiz, Santacafé
Christopher Cook, Sister
Rafael Zamora, Vintage 423
Carrie Eagle, Farm and Table
Josh Kennon, Fork and Fig
Schedule of Food Fights in the Eagle Room
Saturday, March 4–Preliminaries
1pm: Dave Sellers vs. Fernando Ruiz
3pm: Christopher Cook vs. Rafael Zamora
5pm: Carrie Eagle vs. Josh Kennon
Sunday, March 5—Semi-Final and Final
1pm: 2nd and 3rd Place Winners from Saturday
3pm: 1st Place Saturday Winner vs. Winner of the 1pm Fight
For additional information on the Food Fights, go here.
For additional information on the 29th National Fiery Foods & Barbecue Show, go here.
The following two tabs change content below.
Publisher | Christened the "Pope of Peppers" by The New York Times, Dave DeWitt is a food historian and one of the foremost authorities in the world on chile peppers, spices, and spicy foods.
Latest posts by Dave DeWitt (see all)