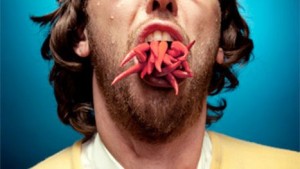 A study in England commissioned by Domino's Pizza has revealed that men exaggerate the amount of spicy foods they can consume in order to impress their dates and mates. And when alcohol is thrown into the mix, the men exaggerate even more. Writing for ABC News, correspondent Roger Kaplinsky-Dwarika visited curry houses in the Hammersmith area of London and quoted a 22-year-old partier named Jon, who said it was a "lad thing" to have a few drinks and then "go off for a steaming curry—the hotter the better." His friend Ken agreed: "A guy has to be seen to show off to his friends, and if he can't do that with an expensive car or a nice house, then the thing to do, it seems, is to eat the hottest chiles in front of his friends." The theory of Richard Wiseman, a senior psychologist at the University of Hertsfordshire, is that such behavior has to do with our evolutionary past. "Males who exhibited the the greatest ability to withstand pain stood a better chance of attracting more females," he said. The lad magazine feature editor, Martin Robinson, agrees. "Consuming the hottest chiles in a genetically competitive sense of the word can be dated back to the primitive ages through evolution and men are, by nature, competitive. The bad news is this behavior shows no sign of abatement."
The following two tabs change content below.
Publisher | Christened the "Pope of Peppers" by The New York Times, Dave DeWitt is a food historian and one of the foremost authorities in the world on chile peppers, spices, and spicy foods.
Latest posts by Dave DeWitt (see all)