"This is only one of 11 bottles in the whole country," Cobra Chilli's Vaughn and Lisa Henry told me at the Fiery Foods Show in March when they handed me a bottle of their Mild Smoky Barbecue Glaze.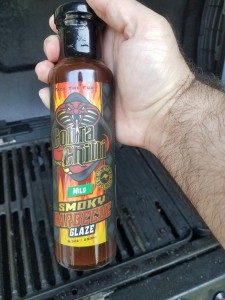 Few things in life make me light up like having something else (almost) no one else does and this one was still pending FDA approval at the time! My Inner Gollum was absolutely giddy at the prospect of having a new Precious to covet. On a related note, I should probably get out of the house more often. But I digress.

Cobra Chilli hails from Deepest, Darkest Australia. Which isn't to be confused with "Deepest Darkest Down Under;" that's totally different and we're not that kind of website. Hey, when you live in the U.S. and don't go anywhere else, any place across an ocean always starts with "Deepest, Darkest." In any case, the company was born in 2011 when they started their chilli plantation at Beelbi Creek, Queensland, Australia. A year later, they were making a gourmet quality Chilli Sauce and they haven't looked back since. In the years since, they've grown dramatically; by 2014 they were exporting their growing product lines to Japan and in 2016, here in the United States.
Which brings us to this year's show and this here sauce. The Henrys were exhibiting and selling quite well; they quickly ran out of several products but were able to sneak me the Mild Smoky Barbecue Glaze. It gets its mild kick from the jalapeno pepper and lands on the sweet side of the flavor spectrum courtesy of the molasses that makes it a good, sticky glaze. Smoky paprika gives it a smoky note too.
I used it on some rather salty pork ring sausage because I thought the sweetness would balance well with it and that was indeed the case.
The flavors all worked well as a team. Moving forward, I'd happily recommend it for grilled meats, especially chicken and pork chops. Once I was done grilling up the sausage, I chopped it up and added it to the blood orange habanero rice below and chowed down!
Combine the ingredients for the rice and start cooking per the instructions on the rice cooker or package.

While the rice is cooking, preheat your grill for direct cooking. Slice the sausage into thirds, then cut the pieces into halves horizontally. Brush them with enough glaze to give them a coat. Grill covered for 3-5 minutes, flip, and reglaze.

Grill for 3-5 more minutes, flip, and reglaze. Remove the sausage, slice it, and add it to the rice.
The following two tabs change content below.
Managing Editor | Mark is a freelance journalist based out of Los Angeles. He's our Do-It-Yourself specialist, and happily agrees to try pretty much every twisted project we come up with.
Latest posts by Mark Masker (see all)