Sambals—those unique, chile-infused sauces—play a huge role in Southeast Asian cooking, as often one will make its appearance at the beginning of the meal as an ingredient and another during the meal as a condiment. The essence of chile heat in the region lies in the hot sauces and condiments, as even the British realized. "The most common seasoning to give a relish to their insipid food is the lombock (i.e. red pepper)," wrote Sir Thomas Stamford Raffles in 1817 in The History of Java. "Titurated with salt, it is called sambel both by the Malayans and the Javans, and this condiment is indispensable and universal. It is of different kinds, according to the substances added to increase or diversify its strength and pungency. …"
An Indonesian legend holds: "Even an ugly girl will find a husband if she can create a great sambal." And any beauty-challenged female will succeed in marriage if she chooses one of our six sambals! The most basic sambal is named after the ulek-ulek, the Indonesian pestle used to crush fresh chiles in a cobek, or mortar. Sambal ulek is so simple that we have not included a recipe here; simply puree fresh red jalapenos in a food processor with salt and add tamarind liquid and fish or shrimp paste to taste.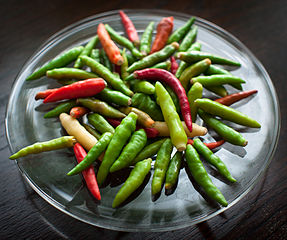 Sambals can be served hot or cold with boiled or fried potatoes, baked breadfruit or yams, hard-boiled eggs, fried fish and prawns, stir-fried meats and noodles, and, of course, curries. All of our sambals can be stored for weeks in a jar in the refrigerator. For the serious sambal addict, they can all be served on crackers or in sandwiches!
Sambalan, which we translate as Basic Spice Islands Chile Paste, is the next step up from sambal ulek, combining onions with two varieties of chiles. Chile and Nut Relish (sambal badjak) has the flavor of tropical nuts, while sambal matah, Hot Shallot and Lemongrass Sambal, has citrus and shallot overtones. Pineapple, Cucumber, and Chile Condiment, or sambal timun from Singapore, is more of a relish than an ingredient, as is sambal kelapa, Spicy Coconut Relish, a dry sambal. We conclude our examination of sambals with Malaysian Tomato Sambal or sambal buah tomat, another relish—but one that uses a close relative of chiles: tomatoes.
Related sauces from Indonesia and Malaysia are Indonesian Peanut-Chile Sauce, which is served with grilled meats, and two additional relishes: petjili nanas, or Sweet-Hot Indonesian Pineapple Relish, and atjar tjampur kuninp, Pickled Spicy Mixed Vegetable Relish.
Sambals and relishes are hardly the only hot condiments in Southeast Asia. Laos is well represented by Laotian Garlic-Shallot Hot Sauce, which is used at the table, and by jaew som mak nao, Lime and Garlic-Chile Sauce with Pork, which is primarily served over rice or noodles. The latter is unusual because it contains ground pork.
From Myanmar come two very strong hot fish sauces, ngapi ye, Hot Anchovy Sauce, and Burmese Ginger-Chile Shrimp Paste, which is commonly served as an accompaniment to curries. The classic nuoc
cham, or Vietnamese Dipping Sauce, is our sole sauce selection from Vietnam, but Cambodia is represented by Three Cambodian Condiments, as recommended by Richard Sterling, and by two curries: Lemongrass Curry Sauce and Red Curry Cambogee.
As might be expected from one of the spiciest countries in the world, Thailand has a wide variety of hot sauces ranging from simple, like nam prik, to the more complex curry pastes. Nam Prik
Egg Sauce really spices up soups, while two red chile dips, Red Chile and Tomato Dip and Red Chile and Green Mango Dip,
are served with raw vegetables.
Last but not least are three classic chile pastes from Thailand; they are the basis for the famous Thai curries. These pastes are easily made fresh, keep well for at least a month in the refrigerator, and add a terrific zing to curries. Green Curry Paste is usually made with fresh serranos, although jalapenos make a good substitute. We make the Red Curry Paste out of two
varieties of red chile, New Mexican and piquin.
The Muslim Curry Paste is so named after Muslim traders (or perhaps for Muslim harbor officials in the port of Bangkok) who first imported it from India. This paste is unique in that it uses curry spices most Thai dishes avoid, such as coriander, cloves, and cinnamon. It was first prepared in the court of King Rama I in the nineteenth century.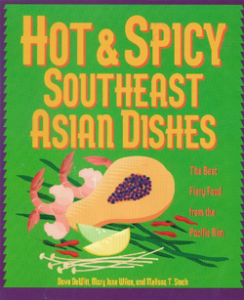 Editor's Note: This cool excerpt on hot chile paste comes to us from Hot & Spicy Southeast Asian Dishes. You can pick up a copy of this great book here.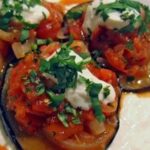 Cut the unpeeled eggplant into 1/2-inch slices and sprinkle liberally with salt. Leave for 30 minutes then pat dry with paper towels. This process allows the salt to draw out some moisture from the eggplant.

Heat oil in a deep frying pan and then fry eggplant until lightly golden on both sides (they do not need to be cooked through—you are just adding color and a bit of flavor). You will need to do this in batches and add more oil as needed. Remove the cooked eggplant slices to a plate covered.

Oil will leach from the cooked eggplant slices, so return this to the pan to reheat and then add the onion. Fry until soft.

Add 3 of the crushed garlic cloves, tomato slices and red chile flakes and cook until the tomatoes break down and a sauce is formed. Add a little stock and seasoning as needed. Remove from pan.

Place a layer of eggplant slices back into the pan. Top with sauce. Repeat until all the eggplant slices are back in the pan. Pour in any remaining oil from the eggplant and onion and add the remaining stock. Cover and simmer gently for 10-15 minutes until the eggplant is tender.


Combine the yogurt, salt and remaining garlic clove. Mix well then spread over the base of the serving dish.


Add the eggplant slices, lifting eggplant carefully to keep intact. Top with remaining sauce and onions. Sprinkle with some fresh mint and coriander for color.


Note: The traditional recipe calls for chakah, which is plain yogurt that has been drained overnight. This makes it a little thicker and drier.
The following two tabs change content below.
Managing Editor | Mark is a freelance journalist based out of Los Angeles. He's our Do-It-Yourself specialist, and happily agrees to try pretty much every twisted project we come up with.
Latest posts by Mark Masker (see all)