This sauce is wonderful on grilled chicken and firm fish like salmon. Use it as they would in Trinidad to spice up a fried shark sandwich. If you are using whole spices, grind them in a mortar or in a spice grinder. Allspice berries can be found in Latin and Caribbean markets, as well as specialty food stores. Note: this recipe requires advance preparation.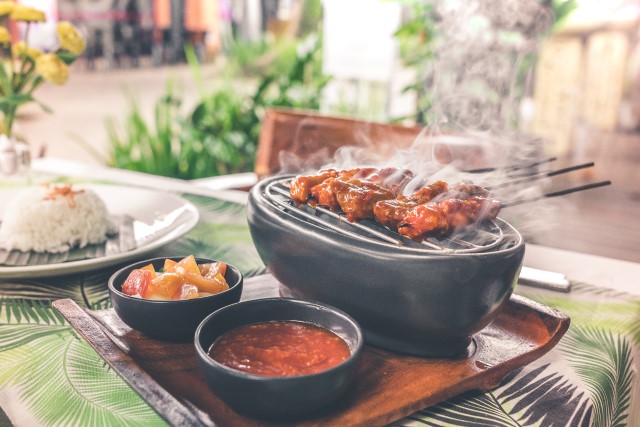 Caribbean Hot Sauce Ingredients
3 dried chipotle peppers
3 dried allspice berries, ground (or 1/2 teaspoon ground allspice)
1 tablespoon mustard seeds, ground (or 1 tablespoon mustard powder)
1 clove, ground (or a pinch of ground clove)
1 teaspoon turmeric
1/2 teaspoon red curry powder
1 teaspoon ground black pepper
1 tablespoon canola oil
2 cloves garlic, minced
1 shallot, chopped
1/2 inch piece ginger, peeled and chopped
5 habaneros, finely chopped
1/2 mango, chopped
2 tablespoons white vinegar
3 tablespoons light brown sugar
1 tablespoon blackstrap molasses
1/4 cup pineapple juice
Salt to taste
Instructions
Soak the dried chipotles in warm water for 1 hour. Drain the chipotles, reserving the soaking water. Remove the seeds, finely chop the chiles and set aside. Combine the allspice, mustard seeds, clove, turmeric, curry powder and black pepper in a small bowl and set it aside.
In a medium saucepan, heat the canola oil over medium heat. Add the garlic, shallot, ginger, chopped chipotles and spices. Cook, stirring constantly, for 1 to 2 minutes. Add the remaining ingredients and stir to combine them. Bring the sauce to a simmer and cook for 15 minutes, stirring occasionally.
Check the consistency. If you want a thinner sauce, add more pineapple juice or the chipotle soaking water. Remove the pan from the heat. If you have an immersion blender, put it directly into the saucepan and blend. I like a chunky texture for this sauce. If you are using a regular blender, be sure to leave the air hole open so steam can escape. Hold a dish towel loosely over the hole and blend to the desired consistency.
Transfer the sauce to a jar and store in the refrigerator for up to one week.
Yield: About 1 cup
Heat Level: Hot
Editor's Note: You'll find this recipe and more in Muy Caliente in Miami by Julie O'Hara on our sister site.
The following two tabs change content below.
Publisher | Christened the "Pope of Peppers" by The New York Times, Dave DeWitt is a food historian and one of the foremost authorities in the world on chile peppers, spices, and spicy foods.
Latest posts by Dave DeWitt (see all)