Jalapeno, habanero and Scotch Bonnet are the most common types of fresh chiles found in Miami cuisine. Plenty of chipotles (smoked jalapenos sold both dry and canned) are used too, as well as the many other dried varieties available. Though most recipes call for some type of chile, the real source of heat in many Latin and Caribbean dishes is the hot sauce. The Chipotle-Habanero Sauce is a thinner, Latin-style sauce with a scorching finish. Note: this recipe requires advance preparation.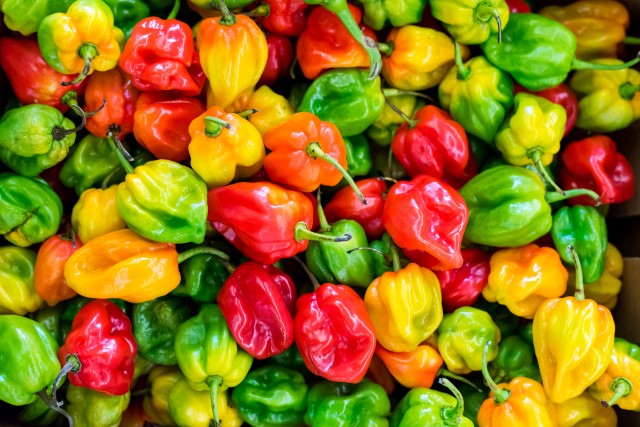 Chipotle-Habanero Hot Sauce Ingredients
3 dried chipotle peppers
1 tablespoon canola oil
1 medium onion, chopped
Salt and pepper, to taste
1 tablespoon mustard seeds, ground in a mortar or spice grinder (or 1 tablespoon mustard powder)
1/2 inch piece ginger, peeled and chopped
1 clove garlic, chopped
1/4 cup pineapple juice
3 habanero chiles, chopped
1 tablespoon Worcestershire sauce
1 teaspoon tomato paste
1 tablespoon blackstrap molasses
2 tablespoons white vinegar
1 teaspoon red curry powder
1/2 teaspoon chile powder
Instructions
Soak the dried chipotle peppers in warm water for 1 hour. Drain the chipotles, reserving the soaking water, and finely chop.
Heat the oil in a small saucepan over medium heat. Add the onion, season with salt and pepper and cook until lightly browned, 3 to 4 minutes. Add the ground mustard seeds and chopped chipotles and cook for 2 minutes. Add the ginger and garlic and cook for 1 minute more. Add the remaining ingredients, bring the contents to a simmer and cook, stirring occasionally, for 15 minutes. Remove the saucepan from the heat.
If you have an immersion blender, put it directly into the saucepan and run it until you reach the desired consistency. If you want a thinner sauce, add small amounts of the reserved chipotle soaking water.
If you are using a regular blender, be sure to leave the air hole open so steam can escape. Hold a dish towel loosely over the hole while blending. Puree to the desired consistency. The sauce will keep in the refrigerator for up to one week.
The following two tabs change content below.
Publisher | Christened the "Pope of Peppers" by The New York Times, Dave DeWitt is a food historian and one of the foremost authorities in the world on chile peppers, spices, and spicy foods.
Latest posts by Dave DeWitt (see all)