This interesting salt fish recipe is known as the national dish of Jamaica. Traditionally served for breakfast, ackees have a texture similar to that of scrambled eggs. If you are lucky enough to find fresh ackees, make sure you choose a ripe one, which on splitting reveals the white flesh of the fruit. Ackees, although theoretically forbidden for import into North America, occasionally can be found fresh in Latin or Caribbean markets, and canned ackees are available from online sources.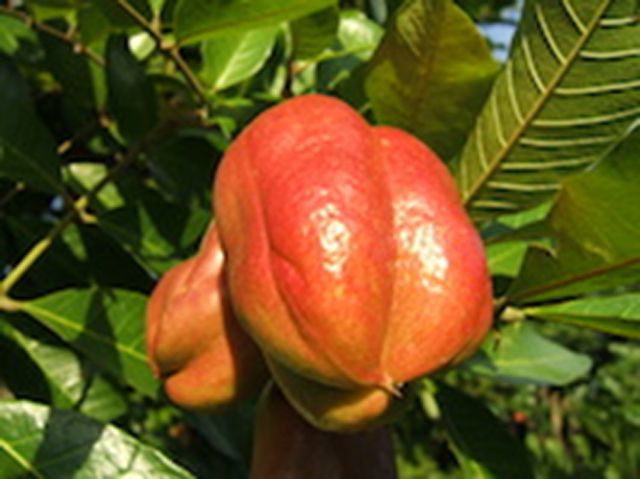 Salt Fish and Ackee Ingredients
2 dozen ackees in pods
1/2 pound salt cod
2 tablespoons butter
1/4 cup vegetable oil
2 small onions, sliced
1 sprig thyme
1/2 Scotch bonnet chile (or habanero), seeds and stem removed, minced
1 small tomato, chopped (optional)
Black pepper
Instructions
Choose ackees that are completely open, with the black seeds and yellow fruit clearly visible in the scarlet pods. This is important, as unripe ackees contain a highly toxic substance. Remove the ackees from their pods. Discard the seeds and the pink membrane found in the cleft of each fruit. Wash them and set them to boiling a large pot of water with the salt fish. As soon as the ackees are tender, pour the contents of the pot into a large sieve, discarding the water. Separate the ackees from the fish. Run some cold water over the fish so that you can remove the bones and skin comfortably, then flake the fish and set it aside.
Heat the butter and oil in a frying pan. Add the onions, thyme, and chile, and the tomato if desired. Stir for a few minutes, then add the flaked fish. Stir for a few more minutes, then add the drained ackees, carefully stirring so as not to crush them. Add a little more oil if necessary, sprinkle with plenty of freshly ground black pepper, and the dish is ready.
Roasted breadfruit and fried plantains make excellent accompaniments to this famous dish.
Photo Credit: Ripe Ackee Pod Photograph by Jerome Walker. This file is Multi-license with GFDL and Creative Commons CC-BY-SA-2.5  and older versions (2.0 and 1.0) via Wikimedia.
The following two tabs change content below.
Publisher | Christened the "Pope of Peppers" by The New York Times, Dave DeWitt is a food historian and one of the foremost authorities in the world on chile peppers, spices, and spicy foods.
Latest posts by Dave DeWitt (see all)