During my last visit to see family in Austin, Texas, we took a little field trip downtown to the Savory Spice Shop. I love to mess around with unusual seasoning combinations, and I thought my grasp of this subject was fairly broad. After visiting Karen Aboussie's shop, I realized that Savory Spice brings "play" and "food" together in a new way.
Savory Spice Shop is the brainchild of Mike and Janet Johnston, who opened their first store in Denver, Colorado in 2004. The shop was an instant hit, and they soon followed up on their success with an online store. Being young, perky, and attractive, Mike and Janet quickly became darlings of the TV food world, and have appeared with Paula Deen on the Food Network and on other shows. Janet currently has her own FN show called Spice & Easy. Today you can find Savory Spice Shops all over the country—a total of 21 locations.
I was simply blown away by the variety of spices, proprietary blends, meat rubs, and miscellaneous culinary toys to be found in their store. There was a whole wall for chile peppers, and another wall section devoted to curry powders. They even carry Ghost chiles! The time I spent wandering through the store sniffing, tasting, and learning was simply the most fun I've had shopping in ages. There are two locations in Austin, and you can look up the closest location to you on the Savory Spice website.
According to Karen in Austin, she had dreamed of opening her own spice store, but after a research trip to India she decided that starting up from scratch would be "too overwhelming." Becoming a franchisee of Savory Spice was the perfect solution for Karen, who now receives shipments of spices and blends from the main distribution center. This way, she knows the product will always be top quality. If you've always wanted to open your own culinary playground, they have franchise options available.
I've cooked the following recipe twice for friends, and it's been fantastic each time. This was the first time I'd ever used preserved lemon, and what a strange, wonderful ingredient it is. I was afraid that a recipe calling for twenty dates would be cloyingly sweet, but the preserved lemon gave just the right amount of savory balance to the dish. The Tan-Tan Moroccan spice blend was an incredibly aromatic mixture of paprika, cumin, Ceylon cinnamon, black cardamom, and other spices. I've sworn that next time I'm making this dish, it will be when we don't have dinner guests. I'm tired of not having any leftovers!
Tan-Tan Moroccan Spiced Chicken with Preserved Lemon & Dates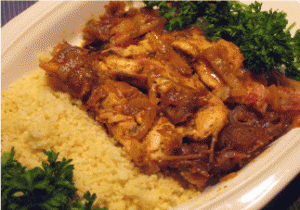 2 tbsp. Tan-Tan Moroccan Seasoning
2 tbsp. olive oil
2 tbsp. warm water
1 tbsp. butter
2 lbs. boneless skinless chicken breast, cut into 1 1/2-inch-wide strips
1/4 cup chicken broth
1/4 cup diced red onion
15 sprigs of fresh flat leaf parsley
2 tsp. lemon juice
2 tsp. preserved lemon pulp
20 dates, cross cut into circular pieces
1 rind of preserved lemon, cut into thin strips
Extra fresh flat leaf parsley for garnish
Preheat oven to 400 degrees. Make a Tan-Tan paste by mixing together 2 tbsp. each of Tan-Tan Moroccan spice, olive  oil, and warm water.
Melt butter in a Dutch oven over medium-high heat. Add Tan-Tan paste and chicken and stir to coat. Cook chicken strips 1 minute on each side. Stir in broth and onions, and then lay parsley leaves on top. Cover and bake until chicken is tender, 20-25 minutes.
Remove from oven and reduce heat to 200 degrees. Discard the parsley, transfer chicken to an ovenproof dish, and return to the oven to keep warm.
Bring the remaining sauce in the Dutch oven to a simmer on the stove top. Add the lemon juice, pulp, and dates. Simmer for 4-5 minutes until the dates are heated through. Turn off heat and stir in lemon rinds.
Remove chicken from the oven and place on a serving platter. Spoon sauce over dish and garnish with parsley leaves. Serve with couscous and a sprig of parsley.
Serves 4-6
Heat Scale: Mild
The following two tabs change content below.
Lois Manno
Lois is the Editorial Director of the Burn! Blog and the Fiery Foods & BBQ SuperSite.
Latest posts by Lois Manno (see all)