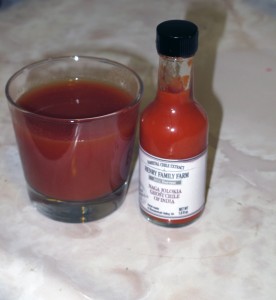 Two months ago, I promised you I'd have fun with the Henry Family Farm Varietal Chile Extracts David Rosengarten gave us to play with. Then the holidays hit and I found myself grilling reindeer over a coal-filled stocking, but that's another story best not shared with small children.
This Bloody Mary recipe David gave us is the first in the line to try, and only mostly because I'm always on the lookout for new allies in my never ending war against hangovers. A Naga Jolokia Bloody Mary just sounds like manly fun and a great way to fire up a classic with hot new blood. You'd think from the photo I just slammed the Naga Jolokia extract into a single serving and called it a day. I did not make this colossal mistake and neither should you. This is an extract, not a sauce. Let's just say my punch bowl is less than photogenic; I ladled a 4-ounce serving into a glass, took the picture, and gave the Bloody Mary a good home in my liver.
Ghost Chile Extract Bloody Mary with Pickled Vegetables
Author:
Prep time:
Total time:
For those of you who want some real heat in your booze.
Ingredients
(4) 28-ounce cans of whole tomatoes in thick tomato purée, chilled
6 cups tomato juice, chilled
2 tablespoons celery salt
2 tablespoons sugar
1 1/2 teaspoons garlic powder
1 1/2 teaspoons onion powder
1 1/2 teaspoons freshly ground black pepper
1 1/2 teaspoons cayenne (or to taste)
1 1/2 teaspoons Ghost Chile Pepper Extract (or to taste)
1 1/2 cups chilled vodka
salt to taste
pickled vegetable garnishes
Instructions
Working in batches, purée the canned tomatoes and their juice in a food
processor. You will have a rich liquid, with no lumps.
In a large bowl, or pot, combine the purée with the tomato juice, and blend well.
Add the celery salt, sugar, garlic powder, onion powder, black pepper, cayenne, Chile Pepper Extract, and vodka. Season to taste with salt; you may need more than you expect to bring up the flavor of the mix (canned tomatoes have less salt than tomato juice). Keep mixture cold.
When ready to serve, fill up an 8-ounce tumbler with ice cubes. Pour about 4 ounces of Bloody Mary mixture over the ice, which should almost fill the glass. Garnish with pickled vegetables, at least 3 pieces per glass.
 Vegetable Garnish Note
Here's what David says regarding the garnish:
"Arrange at least 4 or 5 different kinds of pickled vegetables on 4 or 5 dishes; your guests
will help themselves to the garnishes for their Bloody Marys. Generally speaking, long vegetables work best as stirrers. But short vegetables can work too, as long as you thread several of each one on a toothpick. Here are a few specific ideas:
Pickled Okra. This, of course, is the perfect garnish for a Cajun Bloody Mary. Strive to find it! Luckily, a company called Talk o' Texas makes pickled okra in two varieties (I prefer the "hot"), and distributes the product to supermarkets across the country.
Pickled String Beans. This is another pickled veg you often see in Louisiana Bloodies. A Washington State company called Hogue Farms makes a pickled string bean that is widely distributed.
Pickled Asparagus Spears. Hogue Farms makes this as well.
Pepperoncini. Also called Tuscan peppers, and available in most supermarkets across the U.S.
Pickled Cocktail Onions. Available everywhere. I like to thread 3 of them on a fancy toothpick, then assemble dozens of these picks on a plate.
Pimiento-Stuffed Olives. Choose smaller olives, and arrange on toothpicks like the cocktail onions."
The following two tabs change content below.
Managing Editor | Mark is a freelance journalist based out of Los Angeles. He's our Do-It-Yourself specialist, and happily agrees to try pretty much every twisted project we come up with.
Latest posts by Mark Masker (see all)