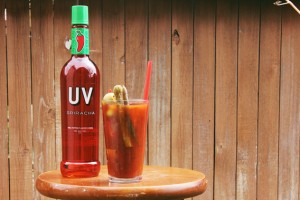 UV Vodka is a brand of vodka that you've undoubtedly seen on shelves of your local liquor store – a rainbow assortment of flavors from Chocolate Cake to "Blue" (what flavor is Blue, by the way?).
Now the temptation would be to write off all flavored vodkas as a passing fad (we hope so, right?), but I've run across a few vodka flavors that are both quality and useful, and UV Sriracha might just be one of those we can embrace.
To be fair, UV is an American-made product, using Midwest corn (Tito's Handmade Vodka out of Austin is distilled from corn, and it's outstanding). UV is actually a pretty decorated brand, so maybe you can find some space in the home bar for a bottle.
You're clearly not at the Burn! Blog to read about Blue Vodka, so let's get to the hot and spicy stuff. As I mentioned in my last post, spice can be an overly invasive flavor in "traditional" cocktails to the point that they just don't taste very good. Jalapeño tequila, we decided, was better for cooking than drinking. UV got smart with this Sriracha version because they took a beloved flavor, and recommended you add it to a Bloody Mary.
Sriracha Vodka in a Bloody Mary sounds great right? It is. I blind taste-tested two Bloody Marys: one with UV Sriracha, one with a crummy, cheap vodka. The Sriracha version was a bit spicier, but frankly, just tasted so much better. We know that Sriracha's unique ingredient is garlic, and a touch of garlic is awesome in a Bloody Mary.
Now if you're seeking to do shots of a spicy vodka that'll make steam shoot out of your ears, this isn't it. The Sriracha flavor is subtle and obvious, but not overpowering, which actually makes it a good fit for other cocktails. Try it as a dry vodka martini garnished with a chili pepper, or mix it up in a traditional Bloody Mary at brunch.
One last note about UV Sriracha: while the bottle is reminiscent of the popular California brand of chili sauce, with the red body and the green top, the vodka itself is not red, only the bottle.
Sriracha Bloody Mary
Author:
Prep time:
Total time:
Ingredients
1 1/2 UV Sriracha vodka
3 oz tomato juice
1/2 oz lemon juice
1 tsp horseradish sauce
celery salt
worchestershire sauce
black pepper to taste
Instructions
Mix all of the above in a pint glass. Garnish with a celery stalk or picked vegetables
Greg Mays is the managing editor of Simple Cocktails at www.simple-cocktails.com.
The following two tabs change content below.
Cocktail Editor | Greg is the classic cocktail aficionado and recipe developer at Simple Cocktails, his "place for the intimidated home bartender to shed some fear."
Latest posts by Greg Mays (see all)