Writing and Photography by Greg Mays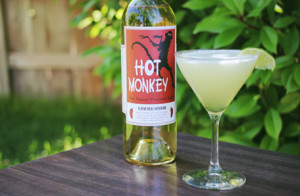 The Pacific Northwest stands as a testament to what the craft cocktail movement can look like for a community's financial growth. From hot distilleries to $15-apiece craft cocktail creations, there is money to be made in the handmade liquor business.
Portland in particular is a standout city for creativity in distilling, with an entire portion of Southeast Portland standing proudly together as Distillery Row – 6 neighborhood distilleries that offer everything from Coffee Rum to Rhubarb Liqueur to what set the standard for New American Gin: Aviation.
Guarding the northeast post at Distillery Row is New Deal Distillery, home to 4 vodkas, 2 gins, and 2 liqueurs. One vodka is a perfect fit for us here at the Burn! Blog, and you'll know right away by its name: Hot Monkey Vodka, the star of New Deal's line because it won a Gold Medal for flavored vodkas at the 2008 San Francisco World Spirits Competition, the Olympics of distilled spirits.
I'm particularly proud of Hot Monkey's tagline that it includes "five Southwestern-style chili peppers," but as we usually see with secret formulas, we don't get told what those specific peppers are. Just ask Dave – we have quite a few peppers here in the Southwest.
Since I've started writing about hot and spicy cocktail stuff here, I've pined a bit about the role that peppers can play (or not play) in your cocktails, and I think that vodkas like Hot Monkey can help the spicy stuff to earn their place in our bars. There's a smoky flavor to Hot Monkey, and did I mention it's HOT? That's right, Hot Monkey might be the first liquor I've reviewed that can take a rightful place as a "dare shot" – even for me, I breathed fire after a single sip of this Monkey.
Now as a cocktail ingredient, Hot Monkey serves best in small doses (1 oz or less) as it adds spicy heat without undesirable stuff like bad breath or a garlic overdose.
At a recent cocktail party, a friend asked me to "make him something crazy," and here's the drink I served him. The interesting thing is that the sweetness of pineapple juice carries this drink a long way and Hot Monkey doesn't show up (not even in the scent) until the cocktail's carried itself halfway down your throat. It's a drink that's sweet overall with a quick, hard bite on the finish.
Greg Mays is the managing editor of Simple Cocktails at www.simple-cocktails.com.
Perfect 31
Author:
Ingredients
3 parts fresh chilled pineapple juice
1 part Hot Monkey Pepper Vodka
Instructions
Shake with ice and strain into a chilled cocktail glass
Garnish with a lime wedge
The following two tabs change content below.
Cocktail Editor | Greg is the classic cocktail aficionado and recipe developer at Simple Cocktails, his "place for the intimidated home bartender to shed some fear."
Latest posts by Greg Mays (see all)