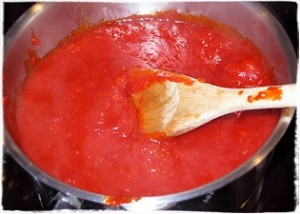 I guess I don't need to tell you that these soups are refreshing to serve during hot summer days and you don't need to turn on the stove. But I do need to tell you that fruits and vegetables fresh from the garden or farmer's market make the most flavorful soups, and also that your food processor and/or blender will get quite a workout.
To make tomato juice or pineapple juice, just chop them up, blend them (adjusting the thickness with water), and strain through a metal strainer. If you're in a hurry and buy the juices at the market, use low-sodium tomato and pineapple juice with no added sugar.
A tip of the toque to W.C. Longacre for his assistance with these recipes.
Caribbean Cold and Bold Gazpacho
Author:
Traditionally, gazpacho is thought of as a Spanish-style cold soup. However, the cold, uncooked soup idea is taken one step further in this recipe by including some of the fruit bounty available in the islands. The ultimate result is a soup that is cold, bold, and spicy–island style. Note: This recipe requires advance preparation.
Ingredients
2 cups pineapple or papaya juice
2 cups tomato juice
3/4 cup almost ripe papaya, peeled and chopped into large cubes
3/4 cup coarsely chopped fresh pineapple
1/3 cup each, diced green, red, and yellow bell pepper
1/2 fresh Scotch bonnet chile (or habanero), seeds and stem removed, minced
3 tablespoons fresh lime juice
2 tablespoons chopped fresh cilantro
1/2 teaspoon whole black peppercorns, crushe
Instructions
Place all of the ingredients in a blender in batches and blend for 5 seconds each. Combine all blending ingredients in a large bowl, mix well, and refrigerate the mixture for 6 hours.
Serve the soup in icy cold bowls.
Chilled African Avocado Soup
Author:
This pan-African soup is both cold and hot at the same time. The chiles add the heat, and it is very refreshing in hot weather. Serve it as a first course with fresh bread. I love avocados, and their flavor shines through in this soup. Note: This recipe requires advance preparation.
Ingredients
4 ripe avocados, peeled and mashed
5 cups vegetable stock
1 tablespoon fresh lime juice
1/2 teaspoon salt
1/4 teaspoon freshly ground white pepper
3 serrano or jalapeño chiles, seeds and stems removed, minced
1 1/2 tablespoons minced scallions or chives
Instructions
Mash the avocados in a large bowl.
Add the stock, lime juice, salt, pepper, and chiles and mash until the mixture is semi-smooth. If you like a velvety texture, place the mixture in a blender or food processor and puree.
Chill the soup for several hours.
Garnish the soup with the scallions or chives.
Mandarin Orange and Sour Cherry Chile Chilled Soup
Author:
In a chunkier version, this soup could be a salsa. This is a guaranteed crowd pleaser, both visually and in flavor. The first round of praise comes when it is served, the next when it is tasted. Do not used canned coconut cream—save that for a piña colada.
Ingredients
3 cups canned Mandarin oranges, drained and liquid reserved
1 cup dried sour cherries, rehydrated in the Mandarin orange liquid
2 medium red bell peppers, diced
2 medium red onion, chopped
3 tablespoons chopped fresh cilantro
4 serrano chiles, seeds and stems removed, minced
1 teaspoon salt
2 cups freshly squeezed orange juice
1 cup pineapple juice
1 cup coconut milk
1 cup sour cream
1/4 teaspoon freshly ground nutmeg
Instructions
In a large bowl, combine the oranges, sour cherries, peppers, onion, cilantro, chiles, and salt and mix well. Refrigerate for 1 hour.
Add the orange juice, pineapple juice, and coconut milk and refrigerate for 30 minutes.
Combine the sour cream and the nutmeg and stir well.
Stir the soup and serve in chilled bowls with a dollop of the sour cream.
The following two tabs change content below.
Publisher | Christened the "Pope of Peppers" by The New York Times, Dave DeWitt is a food historian and one of the foremost authorities in the world on chile peppers, spices, and spicy foods.
Latest posts by Dave DeWitt (see all)