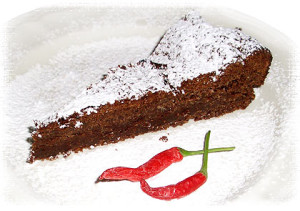 Over on the Super Site, Harald Zoschke recently related the tale of a trip to Italy to see old friends. While that story makes for fun reading, we just had to share this recipe from it to warm you up. Almost everyone loves chocolate cake and it's even better with some heat.
Chile Chocolate Cake: Recipe
Author:
Ingredients
9 oz. (250 g) (1 1/4 cups) high quality dark chocolate
6 oz. (180 g) (3/4 cup) sugar
7.5 oz (220 g) (1 cup) unsalted butter
1/4 cup sifted flour
1/4 cup milk
4 large eggs
2-3 teaspoons of Habanero jam (or other hot chile pepper jam)
Confectioner's sugar for decoration
Instructions
In a double boiler, melt the chocolate (break into smaller pieces for easier melting) Stir in the butter, sugar, and milk until smooth. Let cool.
Separate the eggs. Incorporate the four egg yolks, the habanero jam, and the sifted flour into the chocolate mix. Beat the four egg whites until stiff peaks form and carefully fold into the mixture.
Pour the batter into a greased 8″ or 10″ pie pan and bake at 375 degrees F (190º C, gas mark 5) for about 30 minutes. Let cool and dust with confectioner's sugar. Serve optionally with a scoop of vanilla ice cream.
The following two tabs change content below.
Publisher | Christened the "Pope of Peppers" by The New York Times, Dave DeWitt is a food historian and one of the foremost authorities in the world on chile peppers, spices, and spicy foods.
Latest posts by Dave DeWitt (see all)