Lemon grass makes a nice houseplant and a continuous supplier of lemony stalks–simply root a stalk in water and then plant it in a pot. Put it in partial sun and it will grow and separate. This marinade is excellent with chicken and fish. Warning: the marinade tastes so good your will want to drink it. Go ahead, call it lemon grass tea. Use this marinade for poultry, fish, or pork, or as a dressing for a salad. Dave serves it over noodles and calls it a pseudo-curry. We feel no shame in pilfering this recipe from Aye, There's the Rub on our sister site, Fiery Foods and Barbecue Central.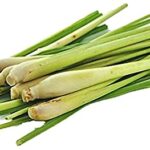 Cut off and discard the green top of the lemon grass and the root end, leaving about a 6-inch stalk. Remove any tough outer leaves, cut the stalk into 1-inch pieces, lightly pound the stalks with the knife handle to release the flavor .

Combine the lemon grass with the coconut milk in a saucepan and simmer for 10 to 15 minutes. Do not let it boil. Remove from the heat and strain. Discard the lemon grass and reserve the milk.

Place all the ingredients, including the milk, in a blender or food processor and puree until smooth.
The following two tabs change content below.
Publisher | Christened the "Pope of Peppers" by The New York Times, Dave DeWitt is a food historian and one of the foremost authorities in the world on chile peppers, spices, and spicy foods.
Latest posts by Dave DeWitt (see all)