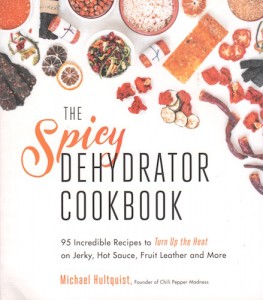 The author of this book is an email buddy of mine, Mike Hultquist, the founder of ChilePepperMadness.com. After studying Mike's book, which is scheduled for publication in early January, 2018, I came to realize that it should be in every chilehead's library. That's because dehydrating covers a wide range of cooking styles, like making fruit and sauce leathers, dehydrating cooked meals such as curries and risottos, and making dried soup and stew mixtures for quick and easy rehydration. These techniques are in addition to creating seasoning blends and powders and making jerky, snacks, and lightweight foods for camping and hiking. In all, there are 95 recipes for these techniques in the book, each with a color photo.
I think that the fruit, vegetable, and sauce leathers are the most interesting section of the book because they are so unusual. For one thing, they are pliable and can be rolled up like the ones below.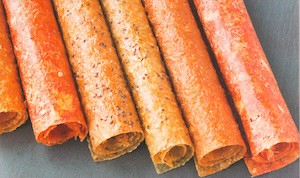 If you're thinking that you'd like to give this book as a Christmas gift but it won't be released in time, use this technique. Amazon allows pre-ordering and shipment as a gift upon publication. Discover your friend's address and tell her or him that a late Christmas gift will be delivered to their home on or around January 9. During the pre-ordering process simply set the delivery address as your friend's.
The following two tabs change content below.
Publisher | Christened the "Pope of Peppers" by The New York Times, Dave DeWitt is a food historian and one of the foremost authorities in the world on chile peppers, spices, and spicy foods.
Latest posts by Dave DeWitt (see all)