Barbecue and grilling season is the best time to replace the old whipped mule you call a set of tongs. I have a buddy whose grilling tools are held together by fear, hope, and congealed grease. Seeing as how I can't afford an intervention, I'm going to do the next best thing: send him the link to this story. Here are a few suggestions for you in the event you need new tools for backyard grilling. Click on the titles for the links.
OlarHike BBQ Grilling Accessories Grill Tools Set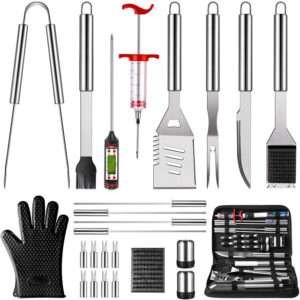 Briefcase grilling tool sets are as rare as corruption in politics. This one, though, is more comprehensive than lots of others and at a price point comparable to similar sets.
Cuisinart CBP-116 Sauce Pot and Basting Brush Set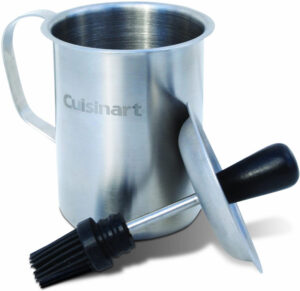 My go-to for basting is usually a coffee mug and a silicone brush. That said, this Cuisinart basting combo is a nice upgrade, if that's what you want. The integrated lid/brush is an interesting idea for keeping the brush from falling into the sauce.
PEPKICN 18 Inch Food Flipper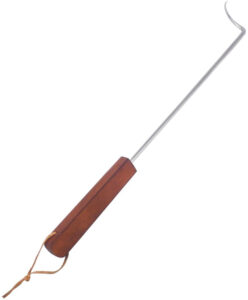 Some of us aren't too big on tongs for flipping meat on the grill. That's where this little pig-tailed food flipper comes into play. Hook it, flip it, move on. I'm not real big on plastic handles so I use one with a wooden handle.
BBQ Guru Rib Ring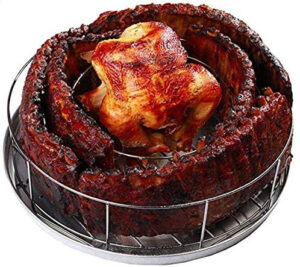 Cooking space is gold in Grillingland. Which, yes, I know isn't a real place. But it should be. BBQ Guru'sBBQ Guru's Rib Ring holds five racks of ribs and a chicken or six racks of ribs sans poultry. And it does so on less than 17 inches of grilling space. It's not cheap but if you're cooking that much food on that small an area, it's cheaper than buying a larger grill or smoker.
Pink Butcher BBQ Paper Dispenser Box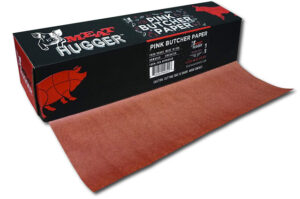 A lot of veteran brisket cookers swear by pink butcher paper as the best way to wrap brisket during the last phase of cooking on the smoker.
Hammer Stahl 14-Inch Carving Knife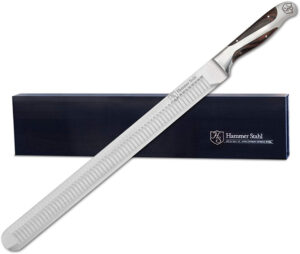 Speaking of brisket, if you're going to be making it a lot, get a dedicated carving knife like this one from Hammer Stahl. The blade is designed for tasks like brisket slicing. Unlike car insurance and personal safety, I don't skimp on price when it comes to cutlery. This 14-inch carving knife runs $99.95 but a high quality knife is well worth the headache it saves you carving a big ol' hunk of meat.
CaveTools.com Meat Smoking Guide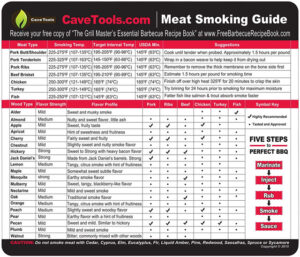 When you're just starting into smoking, a guide like this one is very handy. Not only does it give you basic standards for smoking meat, it also has charts for what chips to use with which types of meat. It's also magnetized so you can put it on the door of your smoker to keep it nearby where you need it most. I still have the one I started out with on the door of my Masterbuilt smoker.
ThermoPro Dual Probe Digital Meat Thermometer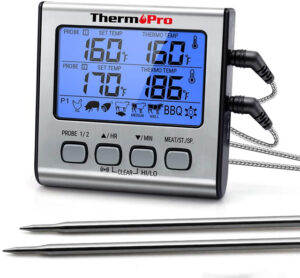 It's best to barbecue to a target temperature instead of a target time. Outdoor conditions can change cook times significantly throughout the day. However, you need a thing called a "thermometer" to track temps. Having a probe like this is great for that. You stick the pointy ends in the meat(s) with the cables routed into the smoker via its vents and the thermometer itself sits on the smoker while you wait. No opening it up and losing precious heat to measure internal temps.
The following two tabs change content below.
Managing Editor | Mark is a freelance journalist based out of Los Angeles. He's our Do-It-Yourself specialist, and happily agrees to try pretty much every twisted project we come up with.
Latest posts by Mark Masker (see all)