Beer is frequently used as the tenderizing ingredient in marinades as it is in this recipe. Carbonnade refers to a type of French or Belgian beef stew made with beer and a little sugar. I've not only highjacked the title, but have spiced up my version of the recipe by adding chiles, our favorite ingredient, and cooking it on the grill, rather than the stove as a stew.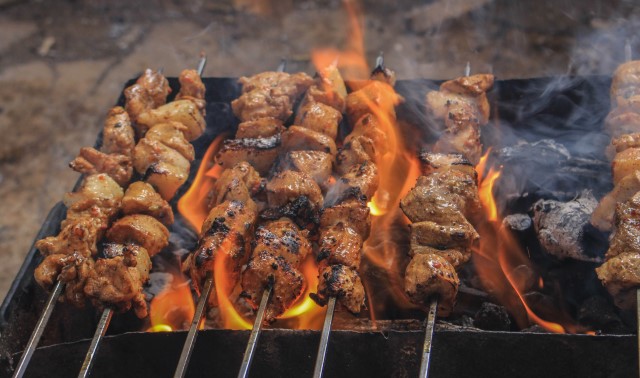 Ingredients
1 12-ounce can beer, dark preferred
2 tablespoons sugar
2 tablespoons vegetable oil
2 tablespoons soy sauce
3 cloves garlic, minced
1 teaspoon ground cayenne chile
1 teaspoon red wine vinegar
1 teaspoon coarsely ground black pepper
1 to 1 ½-pounds beef, such as sirloin, filet, or top round steak, cut in 1-inch cubes
12 to 18 pearl onions
1 green bell pepper, seeds, ribs, stem removed, cut lengthwise into wedges
Instructions
To make the marinade, combine the beer, sugar, oil, soy sauce, garlic, cayenne, vinegar, and black pepper in a non-reactive bowl. Add the beef, cover, and marinate the beef in the refrigerator overnight. Remove the beef and drain, reserving the marinade.
Put the reserved marinade in a small saucepan and simmer for 15 to 20 minutes.
Thread the beef, onions, and bell pepper on skewers. Brush the onions and peppers with oil and sprinkle with some additional chile. Grill the kebabs over a medium-hot fire for about 4 minutes on each side, until the beef is done. Cut a piece of meat to check for doneness.
To serve, place the kebabs on a serving platter or individual plates. Pour the cooked marinade over the kebabs and serve.
The following two tabs change content below.
Publisher | Christened the "Pope of Peppers" by The New York Times, Dave DeWitt is a food historian and one of the foremost authorities in the world on chile peppers, spices, and spicy foods.
Latest posts by Dave DeWitt (see all)