This stuff freezes well, it's hearty, and you can adjust the heat level easily up or down, simply by adding more or less fresh habanero chile. The baseline heat level of the sausage is only warm, so if you want a real kick, add at least half a habanero to the pot. This features Mulay's Killer Hot Italian Sausage, but you can use your favorite spicy Italian sausage.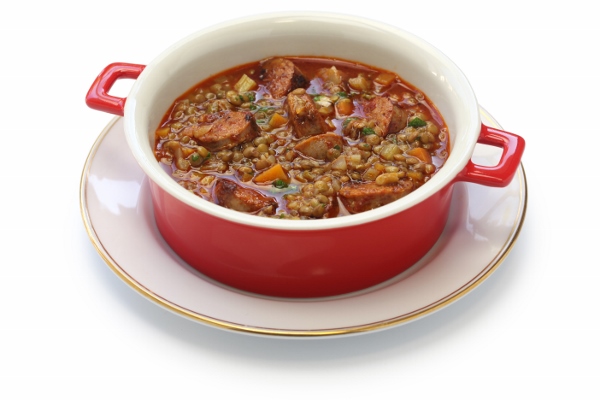 Spicy Lentil Stew with Killer Sausage Ingredients
1/3 pound of bacon (about 5 slices), cut into 1/4-inch strips
1 medium onion, chopped
2 large carrots, peeled and diced
3 large celery stalks, diced
1 teaspoon cumin powder
2 cloves garlic, minced
1/2 fresh habanero chile, stem and seeds removed, finely chopped (add more if you love it hot)
1 pound dry split red lentils, rinsed and cleaned
2 cups water
4 cups vegetable stock
1 tablespoon fresh thyme leaves, chopped (or substitute 1/2 teaspoon dry)
1 bay leaf
1 teaspoon salt
1/4 teaspoon black pepper
1/2 pound Mulay's Killer Hot Italian Sausage (or substitute the Italian sausage of your choice, though it won't be nearly as good)
1 teaspoon red wine vinegar
1/4 cup chopped fresh cilantro
Instructions
Heat a large 6-8 quart pot on medium heat. Add the bacon pieces and cook until browned. Remove the bacon pieces and set aside.
Heat the remaining bacon fat and add the carrots, onions, celery, and cumin. Sauté until softened and onions begin to turn translucent. Add the garlic and habanero, and cook for another minute.
Return the cooked bacon to the pot and add the lentils, stock, water, thyme, bay leaf, salt, and pepper. Bring to a boil, then reduce the heat and simmer the stew, partially covered, until the lentils are tender—about 45 minutes.
Brown the sausage links in a separate skillet over medium heat until they are cooked through. Remove from the pan and slice into bite-sized pieces when slightly cooled. Add the sausage to the stew during the last 10 minutes of cooking.
Add the sherry vinegar and cilantro to the stew, and adjust the salt and pepper to taste.
The following two tabs change content below.
Publisher | Christened the "Pope of Peppers" by The New York Times, Dave DeWitt is a food historian and one of the foremost authorities in the world on chile peppers, spices, and spicy foods.
Latest posts by Dave DeWitt (see all)