This pumpkin roasted with chickpeas and lentils makes a nice addition to that Halloween or Thanksgiving culinary arsenal you've been building over the years. For as much as turkey stuffing is nice to eat and all, it's good to change things up over the holidays and this Moroccan-based side dish does exactly that.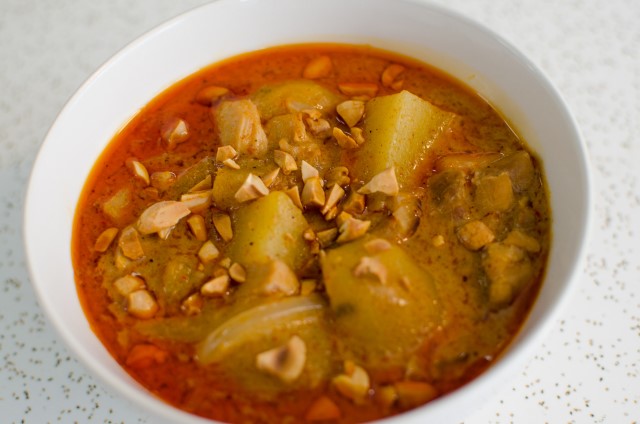 Butternut/ Pumpkin Roast with Chickpeas and Lentils Ingredients
1kg butternut or pumpkin cut into chunks (Potato or Sweet potato can also be used)
250ml Cream
60g (1/4 cup) parmesan cheese
60g (1/4 cup) bread crumbs
30g (1/4 cup) fresh coriander leaves, coarsely chopped
Instructions
Preheat oven to 350°F
Boil Butternut/ Pumpkin/ Potato in 1 L boiling water and 5ml Salt for 20 min. Drain excess water off.
Place Butternut/ Pumkin/ Potato in an ovenproof dish.
Blend the Chickpea & Lentil cooking sauce with the cream and pour over the cooked pumkin/ butternut/ potato
Sprinkle with Parmesan cheese, Bread crumbs and Coriander and bake in preheated oven for 15 min.
The following two tabs change content below.
Publisher | Christened the "Pope of Peppers" by The New York Times, Dave DeWitt is a food historian and one of the foremost authorities in the world on chile peppers, spices, and spicy foods.
Latest posts by Dave DeWitt (see all)