This is one of those cross-over dishes that can be served whole as an entree or cut into wedges as an appetizer. If ever there were such a thing as a "Grilled Shrimp Mexican-Style Pizza," this would be it. Feel free to substitute chicken pieces for the shrimp if you like. Would you dare serve this with Tropical Rum Slush? Well, why not? We do.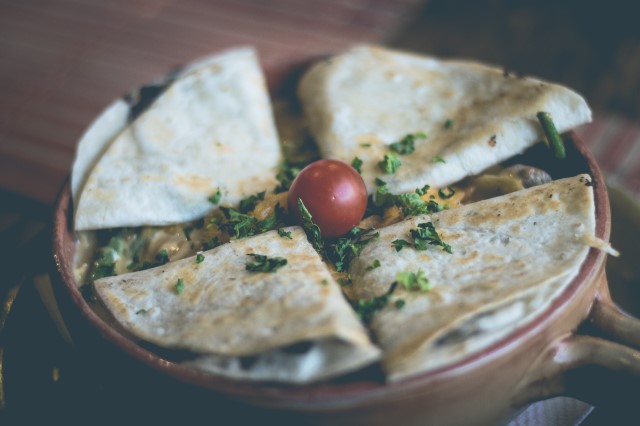 Margarita-Grilled Shrimp and Avocado Quesadilla Ingredients
Margarita Marinade
1/4 cup tequila
3 tablespoons triple sec
2 tablespoons vegetable oil
1 tablespoon chopped fresh cilantro
1 tablespoon finely chopped onion
2 serrano or jalapeño chiles, seeds and stems removed, finely chopped
1 teaspoon ground chipotle chile powder
The Shrimp and Final Preparation
1 pound small shrimp (26 to 30 per pound), peeled and deveined
6 7-inch flour tortillas
Vegetable oil
Guacamole (two mashed or finely chopped avocados mixed with
1/2 chopped onion, 1/2 chopped tomato, 1 minced serrano or jalapeño
chile, and a little lime or lemon juice)
1,5 cups shredded Monterey Jack or asadero cheese
Chopped fresh cilantro.
Instructions
Combine all the ingredients for the marinade in a nonreactive bowl. Toss the shrimp in the mixture and marinate for one hour.
Place the shrimp in a grilling basket and place over the fire, shaking the basket often to make sure the shrimp is grilled on all sides. Grill for about 4 minutes over a medium fire, or until the shrimp just turn pink and are opaque. Remove from the fire.
Brush one side of 3 tortillas with the oil. Spread the guacamole over the other side of each oil-brushed tortilla, divide the shrimp among each, sprinkle with the cheese and cilantro, and press firmly together. Top with the remaining tortillas and brush with oil.
Grill the quesadillas over medium heat either by the indirect method for 5 minutes, or direct method for 3 to 4 minutes or until the tortillas start to brown and the cheese melts, turning once–carefully.
Cut the quesadillas into wedges, top with a dollop of guacamole if desired, and serve.
The following two tabs change content below.
Publisher | Christened the "Pope of Peppers" by The New York Times, Dave DeWitt is a food historian and one of the foremost authorities in the world on chile peppers, spices, and spicy foods.
Latest posts by Dave DeWitt (see all)