The word chutney comes from the Sanskrit word chatni, and in India, refers to relishes that are used to accent other dishes. They can be sweet, sour, hot, or mild. This is a hot and sweet version.  Serve with curries or other Indian foods.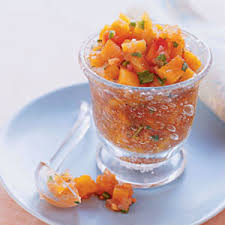 Peach-Habanero Chutney Ingredients
1 teaspoon dried crushed habanero chiles
2 pounds peaches, peeled, pitted, and diced
2 cups white vinegar
1 1/4 cup light brown sugar
1/4 cup lemon juice
1 medium onion, minced
1/2 cup raisins
2 teaspoons mustard seeds
1 teaspoon grated fresh ginger
1 teaspoon ground cinnamon
1/4 teaspoon ground allspice
Instructions
Combine all the ingredients in a saucepan, bring to a boil, reduce the heat and simmer for 45 minutes to an hour, or until the sauce is thick, stirring occasionally and skimming off any foam that forms.
Cool, place in jars, and refrigerate.
Variation: Puree the mixture for a smoother chutney.
Heat level: Medium Hot
The following two tabs change content below.
Publisher | Christened the "Pope of Peppers" by The New York Times, Dave DeWitt is a food historian and one of the foremost authorities in the world on chile peppers, spices, and spicy foods.
Latest posts by Dave DeWitt (see all)