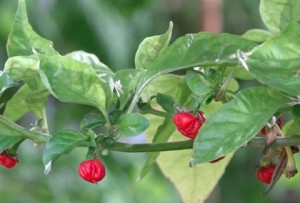 Watch your back, Carolina Reaper! Mike Smith, the owner of Tom Smith's Plants in the United Kingdom, has developed a potentially record-breaking pepper with researchers at Nottingham Trent University. He doesn't recommend the pepper for eating, however, because, he says, it may be the last thing a person ever tastes. The chile pepper wasn't developed to be eaten. 'Dragon's Breath' was "born out of a trial of new plant food developed by Nottingham Trent University which aims to increase the quality and resistance of plants," according to the BBC. Smith says the intended usage will, in fact, be medical. Oils from the tiny pepper are so potent it can be used as an anesthetic.So how exactly do hot peppers, such as Dragon's Breath, maim or kill those who try to eat them? Let's start with the pepper's spicy stats: 'Dragon's Breath' is so spicy, it clocks in at 2.48 million heat units on the Scoville scale. Compare that to the 'Carolina Reaper's' official Guinness World Record heat level is 1,569,300 Scoville Heat Units (SHU), according to tests conducted by Winthrop University in South Carolina. The figure is an average for the tested batch; the hottest individual pepper was measured at 2.2 million SHU. 'Dragon's Breath' is so potent that it will be kept in a sealed container when it goes on display at the Chelsea Flower Show from May 23 to 27 in London, the Daily Post reported. Meanwhile, Smith is currently awaiting confirmation from Guinness World Records that he's officially overtaken the Reaper, according to the BBC.
The following two tabs change content below.
Publisher | Christened the "Pope of Peppers" by The New York Times, Dave DeWitt is a food historian and one of the foremost authorities in the world on chile peppers, spices, and spicy foods.
Latest posts by Dave DeWitt (see all)