Continuing our Christmas food coverage, here are two more articles of interest:
Red and Green for the Holidays, by Nancy Gerlach, Food Editor Emeritus
Recipes: Mole Poblano de la Noche Buena; Tamales y Mas Tamales; Southwestern Roasted Turkey with Green Chile Piñon Dressing; Posole; Winter Squash and Apple Chowder with Red Chile–Dusted Croutons.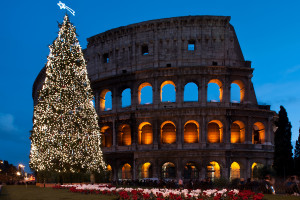 An Italian Christmas Dinner, by Dave DeWitt
Recipes: Tacchino alla Porchetta (Herb-Scented Roast Turkey from Nereto); Gnocchi di Zucca (Pumpkin Gnocchi with Shavings of Smoked Ricotta and Sage Leaves); Patate al Forno con Rosmarino  (Oven-roasted Potatoes Sprinkled with Rosemary), Garlic, and Peperoncino Powder); and Panpepato (Spicy Chocolate-flavored Christmas Bread).
The following two tabs change content below.
Publisher | Christened the "Pope of Peppers" by The New York Times, Dave DeWitt is a food historian and one of the foremost authorities in the world on chile peppers, spices, and spicy foods.
Latest posts by Dave DeWitt (see all)