Notice that we have not limited this recipe to the "southeastern corner of Western North Carolina," but rather have made a universal Carolina pork recipepork recipe that you can sauce up with two or three styles of Carolina BBQ sauces. Even the coleslaw can go north or south. There is a minor debate about whether or not to use a rub, with purists generally preferring to salt the pork roast–a practice some smoking chefs don't approve of.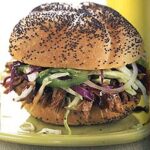 North Carolina Barbecue Sauce
Combine all the ingredients in a large bowl, mix well, simmer for 15 minutes, and let stand for a couple hours to blend the flavors.
Mix together the ingredients for the salad in a bowl. Combine all the ingredients for the dressing in another bowl. Pour the dressing over the salad and mix well. Cover and refrigerate for 2 hours.
If using a rub, sprinkle it thickly over the roast and allow it to sit, covered, at room temperature, for three hours. Smoke the roast with 200 degree F. smoke for 4 or more hours, until the internal temperature reaches 170 degrees F.

Remove the roast from the smoker, transfer it to a cutting board, and let it to sit for 20 minutes. Remove any skin and excess fat from the roast. Pull the pork into thin pieces about an inch and a half long.

To serve, place the pork on the buns, spread the sauce of choice over the pork, and then add coleslaw to taste.
The following two tabs change content below.
Publisher | Christened the "Pope of Peppers" by The New York Times, Dave DeWitt is a food historian and one of the foremost authorities in the world on chile peppers, spices, and spicy foods.
Latest posts by Dave DeWitt (see all)