The ritual uses of the genus Capsicum range from the innocuous to the murderous, but the fiery pods are always powerful. In astrology, the chile pepper falls under the dominion of Mars, ancient god of war, so that should be some indication of respect. Fuentes y Guzmán wrote in 1690 that those who frequently ate red pepper were protected against poison, while the Incas prohibited the use chile of chiles at initiation and funeral rites. We do not know why the pods were precluded by the Incas but we console ourselves with the knowledge that Capsicums were associated with lightning bolts in Incan mythology–that we can easily understand.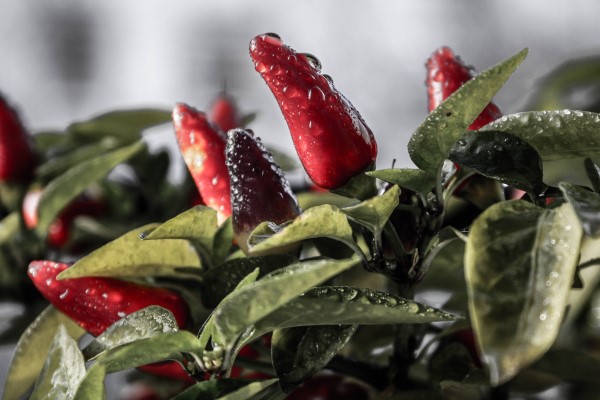 One of the commonest household uses of chile peppers in cultures all over the world is burning them as a fumigant for vermin ranging from bedbugs to rats. Since fumigation in ancient times was also believed to be protection against vampires and werewolves, we have a good introduction to the concept of the magical powers of peppers.
"Chile is used as an amulet, probably because of its well-known protective pharmacological properties, and in religious ceremonies, witchcraft, and conjuring; its fiery potency is considered a powerful means to any end," observed Beatrice Roeder, author of Chicano Folk Medicine from Los Angeles, California.
In a ritual from Coahuila, Mexico, chiles are instrumental in countering the effects of "salting," a ritual to cast a spell on a person to cause them harm, particularly mental problems. Such witchcraft is called maleficio in Mexico. To cast the spell, the evildoer gathers dirt from the grave of a person who died a violent death. Then he or she gathers salt from the homes of three widows, or from the homes of three women named Jane (Juana). The salt is mixed with the soil and is sprinkled in front of the door of the victim.
More spicy lore awaits you in the original article on our sister site.
The following two tabs change content below.
Publisher | Christened the "Pope of Peppers" by The New York Times, Dave DeWitt is a food historian and one of the foremost authorities in the world on chile peppers, spices, and spicy foods.
Latest posts by Dave DeWitt (see all)