This recipe is from David Paul's Lahaina Grill in Lahaina, Maui. This dessert may make you sing and is a guaranteed hit at any fun affair. It's also a really pretty cake, and is especially attractive when you save an assortment of chiles to garnish the platter.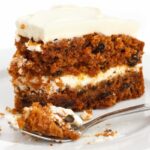 Preheat the oven to 350 degrees F. Whip the butter, sugar and the vanilla together until creamy. Add the eggs in four portions until the eggs are absorbed. In a separate bowl, sift together the flour, baking soda, and cinnamon and add the dry mixture to the wet mixture in four portions.

Next fold in the carrots and the piquins. Place the batter in a 10″ round greased and floured cake pan, and gently tap the filled pan to remove any air bubbles.

Bake for approximately 1 hour. Test the center of the cake with a toothpick; when it comes out clean the cake is done.

Place the cake on a wire rack to cool. When cool, cut the cake into three layers. Moisten the layers with the syrup and schnapps.
Place the water and sugar in a large sauce pan and, using a thermometer, heat the mixture to 121 degrees F. Let the mixture cool to 95 degrees F., then using an electric mixture, whip the egg whites into fluffy peaks. Add the liquid sugar to the egg whites in a slow, steady stream. Add the butter and cream cheese in small chunks. Whip the mixture into a smooth, creamy consistency. Frost the cake between the layers and assemble. Frost the outside of the cake. Coat the outside of the cake with chopped pistachios.
The following two tabs change content below.
Publisher | Christened the "Pope of Peppers" by The New York Times, Dave DeWitt is a food historian and one of the foremost authorities in the world on chile peppers, spices, and spicy foods.
Latest posts by Dave DeWitt (see all)